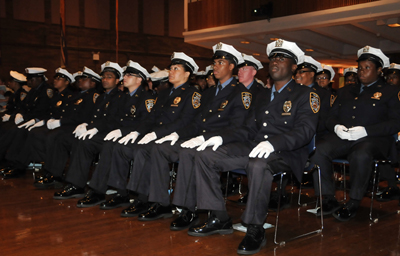 New Traffic Enforcement Agents waited to receive their certificates at a graduation ceremony at Police Headquarters Monday.
The NYPD will deploy 58 new Traffic Enforcement Agents to New York City streets Tuesday. They join an existing force of approximately 2,500 agents assigned citywide to address parking and moving violations, direct traffic and facilitate heavily congested intersections and emergency vehicle passage, clear hazardous conditions and provide for an orderly flow of traffic throughout the five boroughs.
Police Commissioner Raymond W. Kelly presided this morning over graduation ceremonies for the new agents. He said, "Last year, Traffic Enforcement Agents helped to reduce traffic accidents by 20% compared to 2001, and they helped keep traffic fatalities to their lowest level since 1910. These statistics translate into the lives of motorists, bicyclists and pedestrians who use our roadways every day."
Traffic agents are trained for 10 weeks on moving violations and intersection control, parking rules and regulations, street conflict resolution and communication, the use of computerized handheld ticketing devices and ethics, among other topics. In addition to classroom instruction, agents must complete three days of field training, as well as undergo drivers training at Floyd Bennett Field.
More information on becoming a New York City Traffic Enforcement Agent is online, via http://www.nyc.gov/html/nypd/html/careers/civilian_opportunities.shtml#traffic_enforcement.
###