The sons of two of New York's Finest Wednesday were given the shields that had been worn by Police Commissioner Raymond W. Kelly and ESU Officer Stephen Driscoll, who died in the 9/11 World Trade Center attacks.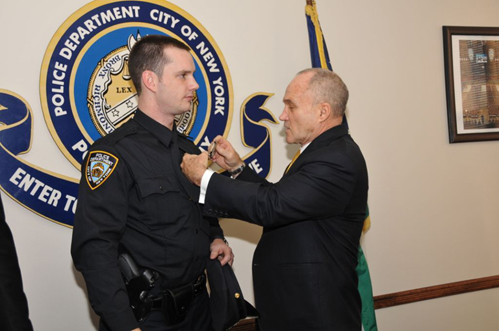 Commissioner Kelly attaches Police Officer Shield No. 17482 of fallen Police Officer Stephen Driscoll to Probationary Police Officer Barry Driscoll.
Barry Driscoll, 24, and Conor McDonald, 23, received their shields from the Police Commissioner at the Police Academy in Manhattan. Both men will graduate along with the largest police recruit class since 2008 in a ceremony at Madison Square Garden on Dec. 27.
Probationary Police Officer McDonald is the son of Detective Steven McDonald, who was paralyzed in a 1986 shooting in Central Park. The younger McDonald requested and was granted shield No. 15978, which Commissioner Kelly wore when he was a police officer. McDonald represents the fourth generation of his family to serve in the New York City Police Department.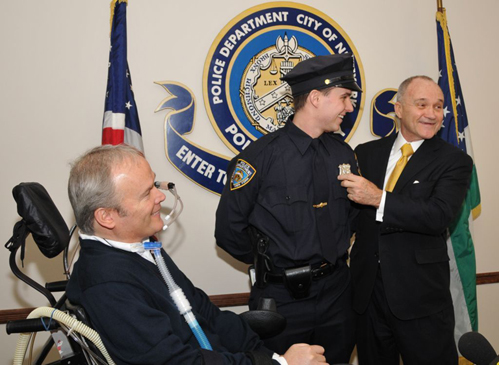 Detective Steven McDonald looks on as his son Conor prepares to receive his police officer shield from Commissioner Kelly.
Probationary Police Officer Barry Driscoll is the second NYPD officer in his family after his late father Stephen, whose shield was No. 17482. Barry Driscoll is a graduate of Boston University who returned to New York City to follow in his father's footsteps.
Probationary Police Officers traditionally receive their service weapons and shields, which are returned upon promotion or retirement and re-issued by the Department, at the Police Academy prior to graduation. Approximately 1,200 new police officers will begin their assignments later this month.