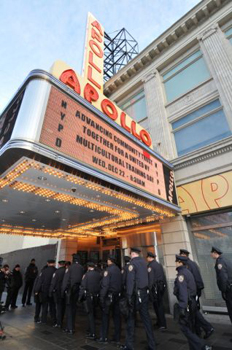 Police recruits began the first of a four-day multicultural immersion course at the Apollo Theater Dec. 22.
Police Commissioner Raymond W. Kelly joined with the Rev. Al Sharpton; the Rev. Herbert Daughtry of the House of the Lord Church; and journalists Stanley Crouch, Gerson Borrero, and Errol Louis to kick off the New York City Police Department's "Advancing Community Trust" multicultural immersion course for police recruits at the Apollo Theater in Harlem Wednesday.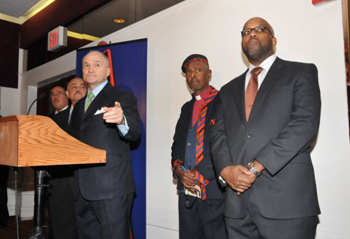 : L to R: NYPD Deputy Commissioner for Training Wilbur Chapman, Gerson Borrero. Commissioner Kelly, Reverend Daughtry and Errol Louis.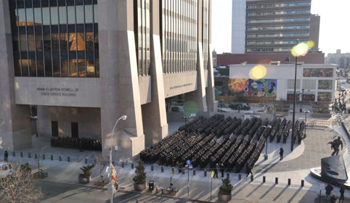 Morning muster at the Adam Clayton Powell Jr. State Office Building
Approximately 1,200 recruits who will graduate Monday marched from the Adam Clayton Powell Jr. State Office Building to the Apollo, where the panelists spoke on police-community relations and perceptions. Four days of training scenarios, presentations and role-play exercises will further enhance recruits' understanding of the diverse population of New York City.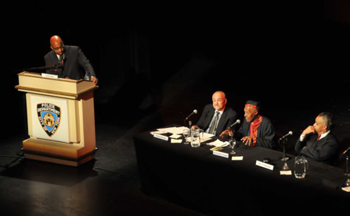 L to R: Moderator Errol Louis; Panelists Gerson Borrero, the Rev. Herbert Daughtry and the Rev. Al Sharpton. Each ACT course begins with a live "community concerns" panel.
"Police officers, by the very nature of what they do, don't win many popularity contests," Commissioner Kelly said in opening remarks. "It only takes one errant officer, someone who is not sensitive to community concerns, someone who is not knowledgeable, to undermine the reputation of a police department built on dedication to the public and the sacrifice of thousands of outstanding officers."
###