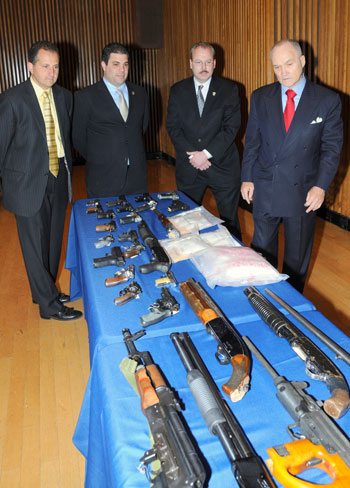 L to R: Lieutenant Gerald Pizzano and Detectives Richard Zacarese and Edward Rourke look at some of the firearms and cocaine confiscated from Crips and Bloods gang associates as part of Operation Under Siege, at the press conference announcing the results of the Queens Gang Squad investigation, with Commissioner Kelly.
Police Commissioner Raymond W. Kelly and Queens District Attorney Richard A. Brown announced that scores of individuals have been arrested on murder, weapons, drug and other charges as part of a large-scale investigation focused on narcotics and firearms trafficking activities allegedly engaged in by the Flocc street gang, an amalgamated alliance consisting of four distinct Crips sets, each with its own leadership, and individual Bloods members and associates based in Far Rockaway and other sections of Queens County.

Among the 84 individuals so far arrested are 45 alleged gang members with ties to the Crips - including a former City Correction Officer - and 26 purported Bloods affiliates. In addition, information developed during the two-year investigation has led to arrests with respect to two homicides, numerous gang shootings, and a plot to murder police officers on foot patrol in Jamaica, Queens, and the seizure of 60 handguns, more than five kilograms of cocaine, 567 decks of heroin, two pounds of marihuana and approximately $50,000 in narcotics proceeds. At least eight other individuals are still being sought.

Commissioner Kelly said, "The nexus between drugs and violence could not be clearer with at least two murders, 11 shootings and a home-invasion robbery linked to these ruthless narcotics traffickers. Detectives involved in this important case are to be commended for their outstanding work, as are the members of the District Attorney's staff who supported them."

District Attorney Brown said, "This investigation strikes at the heart of a highly unified and criminally active street gang that turned the seaside Queens neighborhood of Far Rockaway into a war zone and threatened the lives and safety of innocent bystanders and law enforcement officers. This untraditional gang alliance's alleged propensity for violence knew no bounds. In one instance, a marked NYPD patrol car occupied by two officers was shot at during a shootout between rival gangs. Fortunately, both officers escaped injury."

The District Attorney continued, "For too long, these gang members have poisoned our streets with narcotics and put fear into the daily lives of innocent people. The arrests and seizure of guns and drugs announced today should serve as a warning to others that in spite of these vulnerable economic times when fundamental resources are being stretched to their limits, the law enforcement community is committed to continue to employ aggressive and innovative tactics to track down and prosecute drug dealers, weapons traffickers, violent gang members and other criminals who seek to terrorize our communities and hold honest citizens hostage in their own homes."

The investigation, known as "Operation: Under Siege," commenced in early 2008 when NYPD officers assigned to the Queens Gang Squad and District Attorney Brown's Narcotics Investigations Bureau began to focus resources on an alleged drug and gun trafficking network in Far Rockaway.

During the course of the investigation, which included extensive physical surveillance, court-authorized eavesdropping and search warrants, it was learned that specific sets of the Crips street gang had joined forces with individual Bloods street gang members to create a larger unified gang - known as the Flocc gang - which rose to power in Far Rockaway and led to a surge of violent crime and bloodshed in the area.

The Crips faction consisted of the Hassock Boys, Gang of Apes ("GOA"), Wildmeda and Get it in Bricks ("GIB") sets based in Far Rockaway. The gang allegedly funded their criminal enterprise - which grossed approximately $15,000 per week - through the illegal sale and distribution of narcotics throughout Far Rockaway and South Jamaica, Queens. The Flocc gang is also alleged to have been responsible for the violent crime, and gang-motivated offenses such as shootings and robberies, in Far Rockaway.

Among those arrested were numerous alleged Wildmeda gang members - including its alleged leader Antoine Nance, Jamar Pledger, Jamal Eigner, Jasper Pledger, Jonathan Pledger, Lester Carpenter and Jason Jones - for the murder of Joseph Azoro, 25, who was fatally shot at the Edgemere Houses in Far Rockaway on Friday, April 2, 2010. Also alleged Bloods gang members Berry Gray and Wayne Young were arrested in August 2009 on second-degree murder charges for fatally shooting alleged fellow gang member Roland Spivey, 19, earlier that month.

Also arrested was Derrick Hardy, the alleged leader of GOA. Hardy, along with alleged GOA members Jonathan Crosby, William Spencer and George Delgado, were charged with the attempted murder of Dashawn Hines, a member of the rival Bloods gang, on January 10, 2010. Hardy was also charged along with Antwan Jack for a September 2009 altercation with members of the rival "Klick Klack" set of the Bloods, during which a marked NYPD patrol car was shot at while occupied by two officers.

The investigation also led to the apprehension of alleged GIB gang members Derrell Daniels, Leroy Barnett, Sharem Edwards and Malik Miller for the attempted murder of 23-year-old Japelle Cox on November 20, 2009, resulting from the rivalry between the Crips and the Bloods gangs. Alleged Wildmeda gang members Kamel Cardwell, Maurice Holden and Willie Waters were all arrested for the attempted murder of Richard Lydie, an alleged member of the rival Klick Klack set of the Bloods, which occurred on September 6, 2009 in Edgemere.

Through the use of court-authorized eavesdropping warrants and other investigative resources, it was allegedly learned that Keith Livingston, an alleged Bloods associate, possessed firearms and planned to shoot police officers performing foot patrol in Jamaica, Queens. In September 2009, Livingston was charged with criminal possession of weapons after police allegedly seized a duffle bag containing a 9mm handgun, a defaced 9mm hi-point rifle and various amounts of ammunition belonging to him.

In another case, reputed GOA member Ronald Manifold was apprehended with a .32 caliber gun at a carnival in Far Rockaway in June 2009, just minutes before he was allegedly about to commit a gang-related shooting. Similarly, alleged GOA member Cody Matias was arrested in September 2009 with a loaded 9mm semi-automatic pistol and a magazine with two rounds. Matias was arrested in a livery cab while allegedly en route to commit a retaliatory gang-related shooting in Far Rockaway. Both Manifold and Matias are presently serving two years in prison.

The investigation also led to the arrests of numerous gang members who were storing handguns for such high-ranking members of the Flocc gang as Gquan Lloyd, the reputed leader of the GIB set. Among those arrested was former City Correction Officer and alleged GIB member Farrad Smith. On October 28, 2009, a search warrant was executed at Smith's residence and police allegedly recovered a 9mm pistol from under the mattress that allegedly had been stolen from a fellow Correction officer in Queens earlier that year, a loaded and defaced AK47 wrapped in a blanket behind the headboard, a 12-gauge shotgun and assorted boxes of ammunition.

Also charged in the investigation was reputed GIB member Steven Caraballo, who is an alleged firearms and narcotics supplier in Far Rockaway. Pursuant to a search warrant executed at his residence in February 2010, police allegedly recovered fourteen weapons - including twelve loaded handguns (some of which were defaced) and two assault rifles - 1,350 rounds of assorted ammunition, more than eight ounces of cocaine (powder and crack), more than two ounces of marijuana, 308 ecstasy pills, 23 glass bottles containing steroids, more than $500 worth of fireworks and $8,000 in cash.

In another case, it is charged, information was developed during the investigation that a number of alleged Hassock Boys gang members - such as Kasson Brown, its leader; LakiemWilliams, a captain; Malik Hogan, a lieutenant; Douglas Ballard; and Shadean Samuel- were in possession of a loaded 9mm Glock handgun reported stolen from a Florida police officer.

In addition to the murders and other violent acts, Flocc members were charged with the sale and distribution of cocaine and heroin to street level dealers as well as users in the Far Rockaway area. Tracey Coleman and Lloyd Reavis, among others, were also arrested and charged with supplying narcotics to gang members in Far Rockaway and the South Jamaica Houses.

Finally, information obtained during the investigation led to the arrest of reputed Bloods member Xavier Scott who was hiding out in Far Rockaway for an alleged armed carjacking committed in 2008 in Prince George County, Maryland, and for an assault he allegedly committed in 2007, also in Maryland.

District Attorney Brown extended his appreciation to the New York City Police Department's 101st Precinct, its commander, Deputy Inspector Brian P. McMahon, and its Detective Squad for their assistance and cooperation during the investigation.

The investigation was conducted by Detective Richard Zacarese, of the New York Police Department's Queens Gang Squad, under the supervision of Sergeant Andrew Puglisi, Lieutenants Gerald Pizzano and Robert Dressler, Captain James Ryan, Commanding Officer of Queens Gang Division, and under the overall supervision of Deputy Chief Robert Boyce, Commanding Officer of the NYPD's Gang Division, and Chief Anthony Izzo, Commanding Officer, Organized Crime Control Bureau.

Senior Assistant District Attorney Julie S. Trivedi, of the District Attorney Brown's Narcotics Investigations Bureau, is prosecuting the cases under the supervision of Assistant District Attorney Wilbert J. LeMelle, Bureau Chief, Karen J. Friedman, Deputy Bureau Chief, and Philip Anderson, Supervisor, and the overall supervision of Executive Assistant District Attorney for Investigations Peter A. Crusco and Deputy Executive Assistant District Attorney for Investigations Linda M. Cantoni.

Indictments and criminal complaints are accusations and defendants are presumed innocent until proven guilty.
###