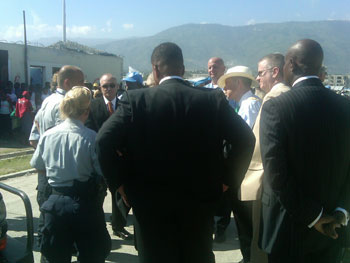 NYPD PHOTO: New York City Police Commissioner Raymond W. Kelly was in Port au Prince, Haiti Monday to discuss the assignment of six Creole-speaking NYPD officers in the country later this month as part of an arrangement with the U.S. Department of State. Pictured with Commissioner Kelly (left, facing camera) here are members of the State Department, United Nations and Montreal Police forces, and NYPD Deputy Commissioner Michael Farrell (second from right).
Police Commissioner Raymond W. Kelly departed for Port-au-Prince this morning where he was scheduled to meet later today with Haitian President Rene Preval, Minister of Justice and Public Security Paul Denis, the Director General of the Haitian National Police Mario Andresol, and other members of the Haitian government to discuss American support in rebuilding Haiti's security sector.

The day-long meetings, sponsored by the US State Department, are being held in advance of the expected assignment of six Creole-speaking New York City police officers later this month to Haiti, where they will help train and assist Haitian police in improving security in the aftermath of the devastating earthquake there.

The US State Department is underwriting all costs, including salary, associated with their assignment in Haiti.

Commissioner Kelly helped establish an interim police force in Haiti when he served as Director of the International Police Monitors there in 1994-1995.
###