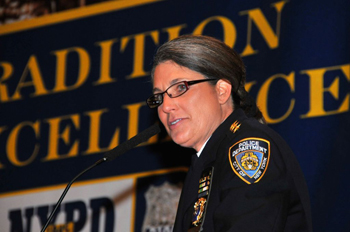 Chief of Housing Joanne Jaffe is the highest-ranking woman in the NYPD and became the first to serve as a three-star bureau chief in 2003.

The New York City Police Department celebrated Women's History Month with a program at Police Headquarters March 31.

New York City Council Speaker Christine Quinn was the keynote speaker.

"If I have learned anything from my experience as Speaker over the last four years, I have learned that any woman has the opportunity and ability to create her own standing in this world," said Speaker Quinn. "Whether you are an officer on our city's streets or our next commissioner, I am proud to say that we are coming closer to a time when gender will not be a factor in government. And I believe that each of you here today is a true testament to just that."

Police Commissioner Raymond W. Kelly joined with the Policewomen's Endowment Association in hosting the celebration.

"The history of women in law enforcement dates back more than 100 years, but the most significant progress has been packed into the last few decades," Commissioner Kelly said. "Since 2001, the number of women in discretionary ranks above captain has increased 60%. Women are continuing to make history here, and have a powerful influence on the well-being of New Yorkers."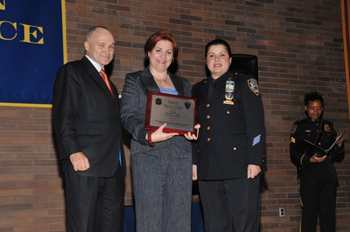 Chief of Housing Joanne Jaffe became the first woman in the NYPD'S history to serve as three-star bureau chief with her appointment in 2003. She said:

"The opportunity exists to make any choice, to pursue any dream, to be able to do something meaningful in any walk of life, whether as a public figure, artist, or quiet hero walking her beat and keeping people safe in a tough neighborhood."

The women of the NYPD Special Victims Division were honored at the event for their work on felony sexual assault and child abuse cases. Sixty-eight of uniformed members in the Special Victims Division are women. Dr. Eloise Archibald, a civilian director in the NYPD Medical Division, also was recognized for 30 years of service to the Department in its Psychological Services Section.

Approximately 700 members of the Department attended the celebration.
###