LATEST CLASS OF NYPD TRAFFIC ENFORCEMENT AGENTS GRADUATE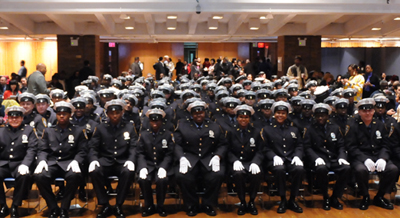 Police Commissioner Raymond W. Kelly presided over graduation ceremonies for 114 Traffic Enforcement Agents Wednesday. The new agents will begin their assignments throughout the five boroughs tomorrow.
"Last year, traffic accidents were down 20% compared with 2001, and traffic fatalities were held to their lowest level since 1910," Commissioner Kelly said. "These are remarkable accomplishments, and we are looking to you to help us build on them."
Today's graduates join a force of 2,489 agents. Traffic Enforcement Agents are uniformed, civilian personnel of the Department whose work includes directing traffic, controlling busy intersections and parking enforcement.
The New York State Legislature in 2008 designated assaulting a traffic agent a felony crime punishable by up to seven years in prison.
Related: NYPD Video: Traffic Enforcement Agents