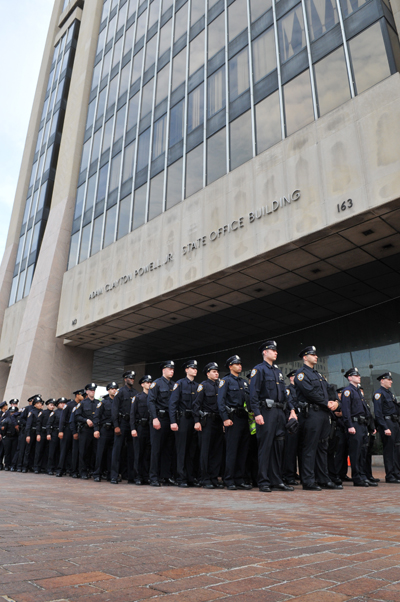 Police recruits line up outside the Adam Clayton Powell, Jr. State Office Building in Harlem on Tuesday, where the NYPD kicked off a four-day Multicultural Immersion training course, the sixth it has conducted since June 2007. The recruits graduate July 1 in a ceremony at One Police Plaza.
Police Commissioner Raymond W. Kelly joined Tuesday with New York City Housing Authority Board Member Margarita Lopez, the Rev. Herbert Daughtry and columnists Stanley Crouch and Errol Louis in Harlem to kick off the sixth "Advancing Community Trust (ACT) Together" four-day course that requires police recruits to examine and discuss diverse community perspectives. The ACT immersion program is in addition to diversity training taught in the Police Academy and precedes six months of in-service community-based training that police officers undergo after they graduate.
A panel of community leaders, activists and critics address recruits each year to begin the training.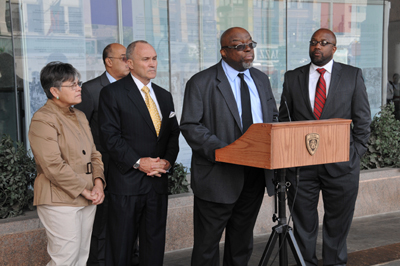 (L to R) New York City Housing Authority Board Member Margarita Lopez, NYPD Deputy Commissioner of Training Wilbur Chapman (back), Police Commissioner Raymond W. Kelly, columnists Stanley Crouch (at microphone) and Errol Louis.
"Each of our panelists has agreed to speak candidly with recruits about the state of police and community relations, to talk about their personal experiences with the police, and to offer their ideas about how police-community relations can be improved," Commissioner Kelly said.
Previous panelists have included hip-hop artist Wyclef Jean, the Rev. Al Sharpton, clergy members and social activists. Following the Community Concerns panel Tuesday, police recruits heard presentations by the Civilian Complaint Review Board and members of the NYPD Community Affairs Bureau. They will also screen scenes from the movie "Crash" and participate in role playing exercises depicting situations they may encounter.
The Police Department introduced multicultural immersion training for recruits in June 2007 at the Apollo Theater in Harlem. The current Police Academy class will graduate July 1.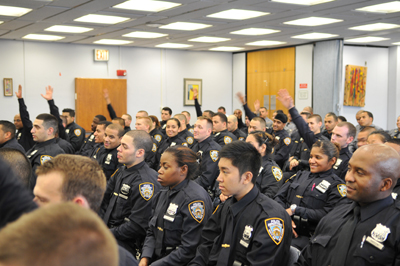 Police recruits listen to a "Community Concerns" panel.
###