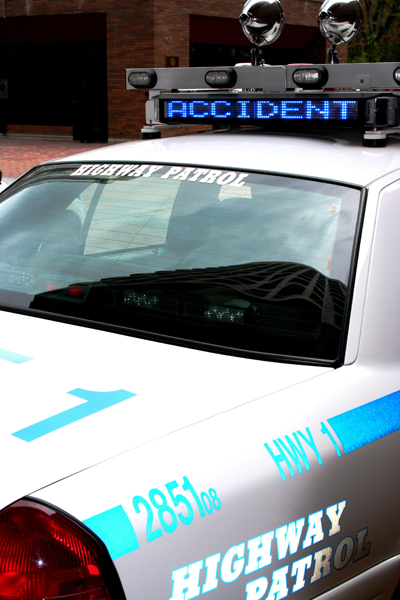 "Accident Ahead - Slow Down" is one of dozens of messages the police can now display on the roofs of police cars.
New York City Police Commissioner Raymond W. Kelly today announced that the NYPD is equipping marked police vehicles with a scrolling blue colored L.E.D. message display board mounted on the existing police light bar. The first ten vehicles outfitted with the message boards were deployed earlier today to Manhattan and highway units in the Bronx, Queens and Brooklyn. The NYPD has plans to outfit all 2,600 marked police vehicles with the scrolling and flashing message boards.
Police Commissioner Raymond W. Kelly said, "Our tests showed that the blue color messages are highly visible to pedestrians and motorists, in daylight and at night. Eventually this technology will be installed on all marked police cars, vans and SUVs throughout the city."
Blue L.E.D. light bars were first introduced on NYPD vehicles in February 2008. The message boards introduced today are pre-programmed with different advisories notifying motorists and pedestrians of emergency incidents and road conditions, which help to direct them around traffic disruptions and other events. Officers in the vehicle can select the advisory they want from a pre-programmed menu. In field tests, the message bar can be read from distances of 200 feet or 10 to 12 car lengths.
###