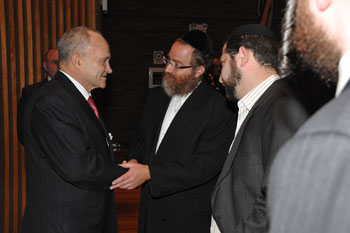 Police Commissioner Raymond W. Kelly greets members of New York's Jewish community following the NYPD's annual High Holy Days briefing on Tuesday at Police Headquarters
Police Commissioner Raymond W. Kelly today presided over the annual High Holy Days briefing held by the New York City Police Department in advance of the Jewish religious observances beginning with Rosh Hashanah and extending through Yom Kippur.

He was joined by NYPD Chief Chaplain Rabbi Dr. Alvin Kass and Mitchell Silber, the NYPD's director of Intelligence Analysis. More than 300 members of the city's synagogues, Jewish community cultural centers, civic leaders and NYPD personnel attended.

Commissioner Kelly said that while there are no specific threats against Jewish targets in New York, the NYPD will deploy additional resources to precincts with large Jewish communities. Extra coverage is to include "House of Worship†patrols and unannounced visits by Hercules teams, the specially-trained, heavily-armed officers charged with deterring terrorists and the reconnaissance they engage in.

"As is the case every year, the police department will take additional precautions to safeguard neighborhoods and synagogues during the High Holy Days,†Commissioner Kelly said.

This year's briefing was punctuated by the recent start of the trial for four men accused of plotting to blow up a synagogue and a Jewish community center in the Riverdale section of the Bronx last year. The men are accused of conspiring to use weapons of mass destruction and face the possibility of life in prison.

"The trial is a reminder that Jewish institutions, like New York City itself, are enduring targets for terrorists,†Commissioner Kelly said. "We must do everything we can to protect them.â€

Director Silber provided an overview of the evolving threat posed by Al Qaeda, its affiliates and the homegrown terrorists they inspire. Director Silber is the co-author of a ground-breaking report called "Radicalization in the West†issued three years ago by the NYPD.
###