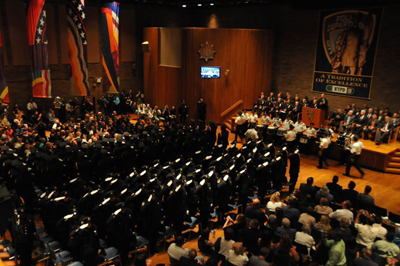 A class of 103 new police officers was sworn into duty at One Police Plaza Thursday. Having completed their training in the Police Academy , the officers will be assigned to the Transit Bureau in keeping with the Federal Transit Security Grant Program that enabled their hiring earlier this year.
"Today's graduates have answered the call, made the grade, and are now beginning their careers as New York City Police Officers," said Mayor Bloomberg. "On behalf of all 8.4 million New Yorkers that you've sworn to protect, I want to say thank you and congratulations. When the national recession first began, many people feared that crime would begin to climb again, the Finest proved them wrong. Last year, murders hit a record low. You can always count on me, Commissioner Kelly, and the Department's command staff to give you the support you need so that all of you return home safely at the end of each tour. Good luck, and congratulations again to you and your families."
"The fact that we wouldn't have been able to hire this class at all were it not for a grant received from the federal government speaks to the national importance of your responsibilities," Commissioner Kelly said. "As members of our transit bureau, you will defend the five million people who use America 's biggest and busiest transit system every day."
Sixty-two percent of this graduating class is minority: 33% Hispanic; 16.5% Black; 12.6% Asian and 37.9% White. Nearly three-quarters of the new police officers, 72%, have earned bachelor's degrees. Approximately 17% have served in the military. This class is 77% male and 23% female. Sixty-one of the new officers began their careers with the Department as members of the Police Cadet Corps.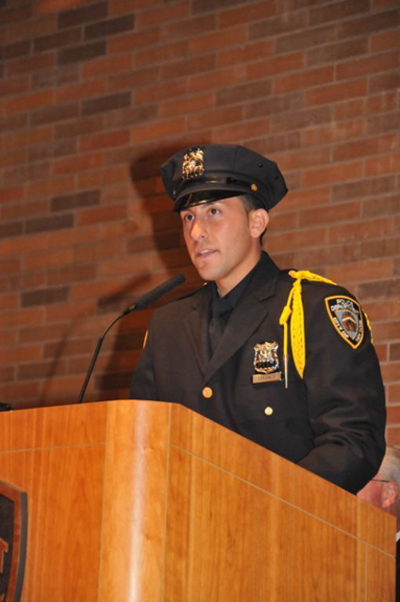 Police Officer Anthony LoBianco earned the highest overall average of his Academy class, and the Mayor's Award as class valedictorian.
Mayor Bloomberg presented the Mayor's Award for highest overall (combined academic and physical) average to Police Officer Anthony LoBianco, a 22-year-old graduate of Mercy College who is the first in his family to become a New York City Police Officer. Officer LoBianco also served as a police cadet in the Bronx, where he is from. Other award winners include:
Police Officer Galileo Garcia Police Commissioner's Award
Second Highest Overall Average
Police Officer Yilson Melendez First Deputy Commissioner's Award
Highest Academic Average
Police Officer Jonathan Correa Chief of Department's Award
Police Officer Lauren Rivera Chief of Department's Award
Physical Fitness
Police Officer Demetrios Kaloudakis Deputy Commissioner of Training Award Highest Firearms Proficiency Average
Police Officer Omar Dawes Commanding Officer, Police Academy Award Exceptional Police Duty
Police Officer Adam England Patrolmen's Benevolent Association Award Outstanding Company Sergeant
Police Officer Robert Zagajeski New York City Police Foundation Award
Exceptional Community Service
All but 20 of the new police officers reside in the five boroughs – 81% are New York City residents. Approximately 30% were born in a country other than the United States.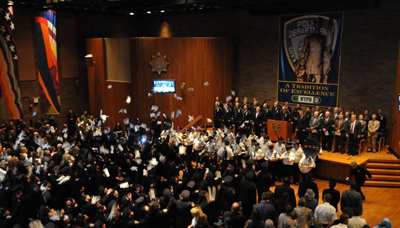 ###