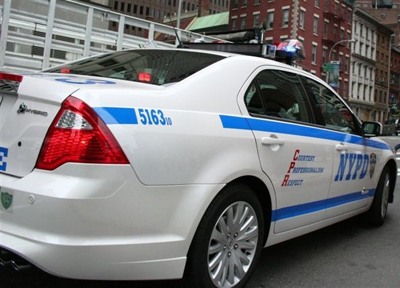 Ford Fusion Hybrids have joined the NYPD patrol fleet of alternative-fuel vehicles, including the Nissan Altima, GMC Yukon SUV and electric scooters.
The New York City Police Department today deployed the first 30 of 102 Ford Fusion Hybrid alternative fuel vehicles for use as marked patrol cars. The Ford Fusions will be used on patrol in all five boroughs.
Mayor Michael R. Bloomberg said: "Using hybrid patrol cars will help fulfill our ambitious PlaNYC goal of reducing City government's carbon footprint. These vehicles use less fuel and emit fewer pollutants into the air we breathe."
New York City Police Commissioner Raymond W. Kelly said, "Safety and performance are our priorities in selecting automobiles for the police fleet. It's a bonus when we can add outstanding fuel economy to the mix."
The Ford Fusions join the Nissan Altima hybrids as marked alternative fuel patrol cars in the NYPD fleet. The Department also uses hybrid vehicles in its parking enforcement fleet, as well as electric scooters and GMC Yukon Hybrid SUVs.
The Ford Fusions were evaluated by the Police Department's Fleet Services Division and Driver Training Unit. At an EPA-estimated 41 miles per gallon for city driving, it is anticipated that the hybrid Ford Fusion will get more than double the gas mileage of the conventional Impala patrol car.
All NYPD Fusions have been outfitted with equipment specialized for patrol. As with all hybrid technology vehicles, the Ford Fusion switches between gasoline engine and electric motor.
In April 2009 the NYPD deployed 76 Nissan Altima hybrids as the first alternative fuel vehicles to be used as marked patrol cars in the department's fleet of approximately 3,000 vehicles. The Nissan Altima hybrid vehicles were used on patrol during the past year and received positive reviews. With the addition of the Ford Fusions, the NYPD fleet will have more than 400 alternative fuel vehicles.
The Ford Fusion hybrids are partly funded through PlaNYC. In July 2008, the City launched an aggressive long-term plan to achieve the PlaNYC goal of reducing energy consumption and greenhouse gas emissions from the City's municipal buildings and operations by 30 percent by 2017. The projects in the long-term plan, including the purchase of hybrid Ford Fusion patrol vehicles, will be partially funded by an annual commitment of 10 percent of the City's energy budget.
The long-term plan, available on nyc.gov, is a comprehensive guide to reducing the City's carbon footprint, through making City buildings more efficient, improving preventative maintenance, capturing energy potential at wastewater treatment plants, and more.
# # #