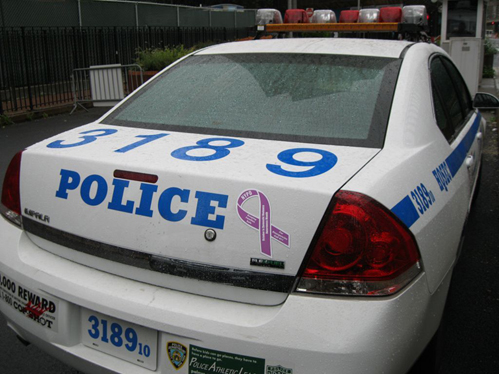 NYPD PHOTO: The New York City Police Department commemorates Domestic Violence Awareness Month with the display of purple ribbon magnetic decals on marked police vehicles citywide during the month of October, in addition to information stations staffed by trained domestic violence police officers in each borough October 5, 12, and 19th.
In 2009, NYPD Domestic Violence officers conducted 69,188 home visits and made 40,269 domestic violence arrests. Since 2001, overall domestic violence crime in New York City is down 28%. Domestic violence homicides compared with 2001 have fallen 39%.
More information, including examples of the multi-lingual pamphlets that will be provided at the information tables, can be found online at http://www.nyc.gov/html/nypd/html/crime_prevention/domestic_violence.shtml
and in the "Inside the NYPD" video podcast, http://www.youtube.com/watch?v=qt4QIrjNhGw.