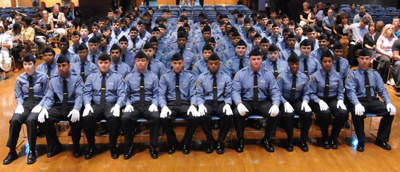 A of 93 New York City Police Cadets graduated their apprenticeships Friday and will be sworn into the Police Academy in July.
Police Commissioner Raymond W. Kelly presided Friday over graduation ceremonies for 93 Police Cadets who will begin formal training in the Police Academy in July.
"As cadets, you've seen up close how demanding the job of a police officer can be, and you know better than most what will be expected of you," Commissioner Kelly said. "As police officers, you'll be called upon to respond to crises and make critical decisions. You'll carry enormous responsibilities, and that's what makes the work so exciting and so rewarding."
All of the police cadets who graduated Friday will be part of the upcoming Academy class, which will be sworn officially July 7. The incoming Police Academy class was increased from 250 to 1,142 recruits after funds were added to restore previously announced cuts in the City's budget.
Police Cadets make up more than half of the current Police Academy class that will graduate July 1.
The Police Cadet Corps program is a college apprenticeship which enables students to assist in and experience various commands throughout the Department. There are currently 1,636 former cadets working in the Department in all ranks, including the Police Commissioner. Commissioner Kelly also served previously as Commanding Officer of the Cadet Corps.
More information about the Police Cadet Corps can be found at:
http://www.nyc.gov/html/nypd/html/careers/cadet_corps.shtml#overview
###