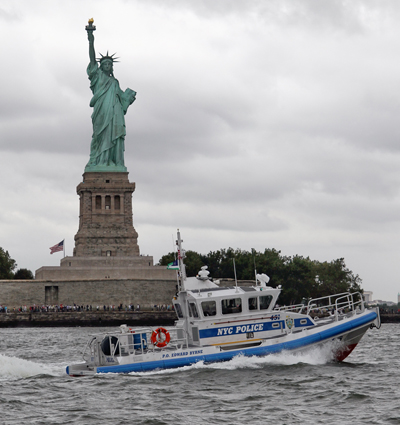 The Police Department unveiled a new boat dedicated in the name of Edward Byrne, a police officer killed in the line of duty in 1988. Photo by Police Officer Ben Reiver.
Police Commissioner Raymond W. Kelly joined with Deputy Inspector David Driscoll, Commanding Officer of the Harbor Unit and the family of Police Officer Edward Byrne Wednesday in christening a new police response boat bearing Byrne's name. Officer Byrne was shot and killed in the line of duty in 1988 while protecting a witness who had agreed to testify in court against drug dealers.
"This new launch will enable us to be even more vigilant in keeping the city safe from crime and terrorism," Commissioner Kelly said. "It is a tangible symbol of Eddie Byrne's legacy. All who see it will be reminded of his courage and his sacrifice."
The new boat will be used for various police emergencies and operations in New York Harbor , including search and rescue and recovery and proactive counterterrorism patrol. The 45-foot vessel is custom equipped with a thermal camera and advanced navigation system, enabling police officers to better conduct search and rescue operations in low-visibility conditions. It can travel up to 48 knots, or 53 m.p.h.
On Feb. 26, 1988, Officer Byrne was a 22-year-old rookie assigned to the 103th Precinct in Jamaica, Queens. He was sitting in a marked patrol car about 3:30 a.m., protecting a witness who had agreed to testify in court against local drug dealers, when two gunmen and two lookouts crept up to the vehicle and shot him several times in the head, killing him instantly. The four assailants, members of a gang who were instructed by a jailed drug kingpin to murder the officer in an effort to intimidate the witness, were later captured and ultimately sentenced to the maximum 25-years-to-life in prison.
A federal grant program was subsequently created in Officer Byrne's name to provide funding to law enforcement agencies around the country.
###