AUDIO: An offshoot of the NYPD-Brooklyn Clergy Task Force helps grandmothers to protect their children, their neighbors and themselves.
Police Commissioner Raymond W. Kelly, Bishop Gerald Seabrooks of Rehoboth Cathedral International, Inc., Bishop A.D. Lyons of the First Baptist Church of Brownsville, and Bishop Landon Penn of Universal Temple, joined by Rev. Dan Craig of Mount Zion Baptist Church of  Brownsville and many other religious and community leaders, announced today the formation of the Brooklyn Clergy-NYPD Task Force, and a 10-point program to combat violence, especially among young men, and to promote improved cooperation and understanding between the police and the community.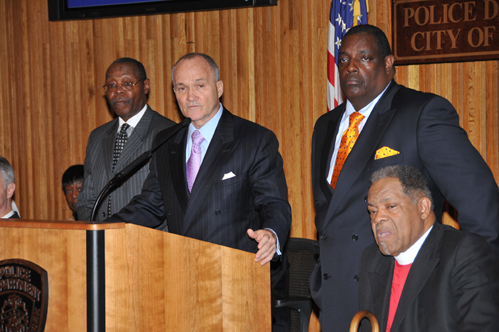 Police Commissioner Raymond W. Kelly joins clergy members to announce the establishment of the Brooklyn Clergy/NYPD Task Force to reduce violent crime Wednesday at Police Headquarters. Pictured (standing from left to right) are: the Rev. Dan Craig of Mount Zion Baptist Church of Brownsville, Police Commissioner Raymond W. Kelly and Bishop Gerald Seabrooks of Rehoboth Cathedral International, Inc. Seated on the right is Bishop Anthony Monk of Monk's Memorial Church.
Police Commissioner Kelly said:
"Bishop Seabrooks, Bishop Lyons, Bishop Penn, Reverend Craig and their colleagues have volunteered in this life-saving enterprise to reduce the shootings and other acts of violence that have devastated so many families among their congregations and throughout Brooklyn. We also want to take advantage of their generous offer to help us build trust, which is a key ingredient to improved public safety. They are ready to get into police cars and onto the firing ranges with us to better under how the police function, while at the same time using their considerable influence to deter gang members and potential gang recruits from lives of crime. These prominent clergy members also have volunteered to assist with other family programs, and to host targeted gun buy-back events, and to work jointly with the NYPD to foster improved community relations."
Bishop Gerald Seabrooks said:
"We, the Brooklyn Clergy-NYPD Task Force would like to commend NYPD's Police Commissioner Kelly and the State of New York's Division of Parole Chairwoman Andrea Evans for coming together with this body. We are here to send a message that we want to stop homicide, violence and shootings of any kind of people, but especially we want to speak out on black-on-black shooting, hurting and harming one another. By working together we realize that we make our city, borough and communities a safer place to live in. We do not want our children going to school in fear. We want to ask the black community to stand with us to denounce all killings of any nature and stand with us in this monumental task. Churches across this city will come together in our efforts to help our young people find Godly principles instead of violence. We thank the many churches who stand with us in our address today and to those that will come abroad. We ask that you stand with us to stop violence against our children, our precious resources. We buried too many children and counseled too many going to school with negative and poor images about our people. This is not our heritage. It is now mothers and grandmothers out-living their children. We have to take a self-assessment at what is going on and deal with four factors: 1) Self-Honesty: We are tired of black-on-black crime, shootings and killings; 2) Self-Image: What is being perceived is not our greatness; 3) Self-Awareness: We are going to become a model and denounce and stop violence in our communities to make it a better place; 4) Self-Responsibilities: We are killing ourselves with black-on-black crime. We cannot blame it on the police or others. Dr. Martin Luther King, Jr. said "Injustice anywhere is a threat to justice everywhere."Thank you and God bless you."
Rev. Dan Craig said:
"As members of the Clergy, we are increasingly concerned by the amount of crime within our Brooklyn communities. We have come today to strongly and categorically denounce all black-on-black Crime as well as crimes against any person regardless of race, ethnicity, religious beliefs or any other factor. We come reaching out to all segments of our community, asking that they join us in this effort to make our communities safer for all and to work with us to achieve our goal of dramatically reducing crime and violence. We, the members of the Clergy, realize that in order to achieve meaningful and measurable success this must be an all inclusive effort. Therefore, members of the Clergy shall engage in meaningful and continuous dialogue with leaders in various segments of the community, including those who may be engaged in violence or other criminal activity. It is our prayer and firm belief that, working together and being led by The Spirit of God, we can make a difference and the time for making that difference is now."
The group announced the following 10-point program:
1.      Information sharing to inform congregations of the nature and patterns of violence in the communities.
2.      Speaking at public events and in media public service announcements regarding the need to stem the problem of violence in minority communities.
3.      Interactive sessions hosted by police, between Clergy and police officers to promote mutual understanding.
4.      Clergy intervention with gang leaders and members to discourage criminal activity.
5.      The launch of a program in which women in the NYPD's executive corps will work with grandmothers of at-risk youth to help keep youngsters out of harm's way.
6.      Targeted Clergy gun buy-back program to focus on the young people most likely to be affected by gun violence.
7.      Establishment of a dedicated Clergy Ride-along program.
8.      A targeted Block Improvement Program designed to develop jointly solutions to problems on blocks near houses of worship.
9.      Orientation sessions at the NYPD Firing Range to provide members of the Clergy and other community leaders the opportunity to experience and review critical NYPD training.
10.  Open house events sponsored by local commanders and Clergy at NYPD facilities to enhance communication with the community.
Members of the Brooklyn Clergy Task Force participating in today's announcement were:
1.      Bishop Gerald Seabrooks, Rehoboth Cathedral International, Inc.
2.      Archbishop Anthony Monk, Monk's Memorial Church
3.      Bishop Cecil Riley, Freedom Hall Church of God
4.      Bishop Nathaniel Townsley, St. Mark's Holy Church
5.      Bishop Willie Billips, Power Up Faith Fellowship
6.      Bishop Eric Figueroa, New Life Tabernacle
7.      Bishop Albert Jamison, Pleasant Grove Baptist Church
8.      Andrea Evans, Commissioner NYS Division of Parole
9.      Shalawn Langhorne, Community Liaison for Bishop George Shorts, Pilgrim Cathedral of East New York      
10.  Catherine Arline, 81st Precinct Community Council President
11.  Rev. Stephanie Bethea, Glover Memorial Baptist Church
12.  Rev. Dan Craig, The Mount Zion Baptist Church
13.  Rev. Kevin Jones, Peterson Temple COGIC
14.  Carolyn Faulkner, Rehoboth Cathedral International, Inc.
15.  Minister Melvin Faulkner, Rehoboth Cathedral International, Inc.
16.  Mary Washington, NYS Division of Parole
17.  Rev. Acey Pettaway, Universal Temple
18.  Vanda Seward, NYS Division of Parole
19.  Rev. D. Griffin
From the NYPD:
Police Commissioner Raymond W. Kelly
First Deputy Police Commissioner Rafael Pineiro
Chief of Department Joseph J. Esposito
Chief of Community Affairs Philip Banks III
Chief of Housing Joanne Jaffe