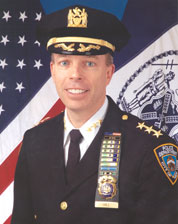 Police Commissioner Raymond W. Kelly today announced the appointment of Chief James P. Hall as Chief of Patrol. Chief Hall succeeds Chief Robert J. Giannelli who has retired.
"Chief Hall has demonstrated outstanding leadership and ingenuity in reducing crime in the subways. He's a superb tactician and an excellent, experienced manager," Police Commissioner Raymond W. Kelly said in announcing Chief James P. Hall's appointment as Chief of Patrol.
Prior to his appointment as Chief of Patrol, Chief Hall commanded the Transit Bureau and was responsible for ensuring the safety and security of New York City's entire subway system including 468 subway stations and a daily ridership of over 5 million passengers. Chief Hall's previous assignments include Adjutant of Patrol Borough Brooklyn North as well as Commanding Officer of the 71 and 115 Precincts. In September 2005, Chief Hall led a deployment of more than 300 members of the Department to Louisiana to aid victims of Hurricane Katrina.
Chief Hall joined the New York City Police Department in January 1981, and began his career on patrol in the Midtown North Precinct. He was promoted to Sergeant in October 1984; Lieutenant in November 1989, Captain in September 1996; Deputy Inspector in May 1999; Inspector in June 2001; Deputy Chief in February 2003; and Assistant Chief in July 2005. He has served in the 6, 70, 71, 112, 115 and Midtown North Precincts, as well as the Brooklyn North Tactical Narcotics Team (TNT), Patrol Borough Brooklyn North, Patrol Borough Queens North, Queens Narcotics Division, the Organized Crime Investigation Division, Street Crime Unit and the Office of the Deputy Commissioner, Community Affairs.
Chief Hall holds a Bachelor of Science degree in Criminal Justice from the State University of New York.