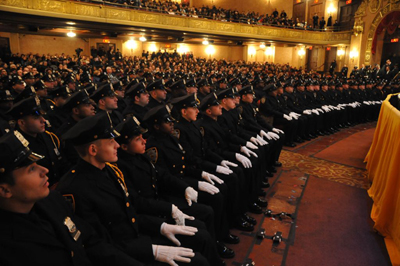 Mayor Michael R. Bloomberg and Police Commissioner Raymond W. Kelly today presided over a graduation ceremony for 250 new police officers at the Beacon Theatre. The graduates recently completed over six months of intensive training at the Police Academy in various field assignments. The new officers will be assigned to Operation Impact, the program that pairs rookie officers with experienced supervisors and deploys them to targeted high-crime areas.
"With just a few more days to go in 2009, crime is down more than 10 percent this year as opposed to last," said Mayor Bloomberg. "Since 2001, the NYPD has reduced crime by nearly 35 percent – an amazing achievement. Keeping our city safe is crucial to getting through these tough economic times, and coming out of the recession even stronger. We are going to continue to make the smart investments in the future of New York's Finest. You can always count on me, Commissioner Kelly, and the Department's command staff to give you the support you need so that all of you return home safely to your families at the end of each tour. Good luck and congratulations to you and your families."
"Every recruit graduating today received the best training available in the law, tactics and community relations," said Commissioner Kelly. "The world will be watching them start their careers. Their first assignment is on patrol at Times Square on New Year's Eve."
This class is among the most diverse to have ever graduated from the academy. Approximately 33 percent of the graduates are Hispanic, 15 percent are black, 12 percent are Asian and 40 percent are white. Approximately 22 percent of the graduates are female. Today's class is made up of 137 graduates who have received four-year college degrees; 30 have completed associates degrees. Members of the class hail from a wide range of professions including 31 graduates who have served in the military.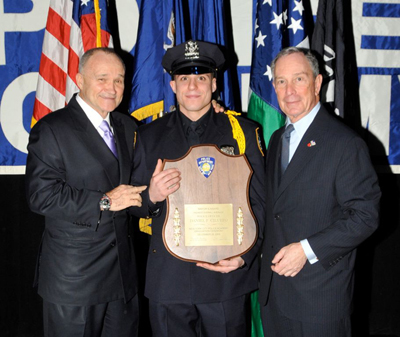 Commissioner Kelly and Mayor Bloomberg congratulate Officer Ciluffo, valedictorian of the December class of the New York City Police Academy.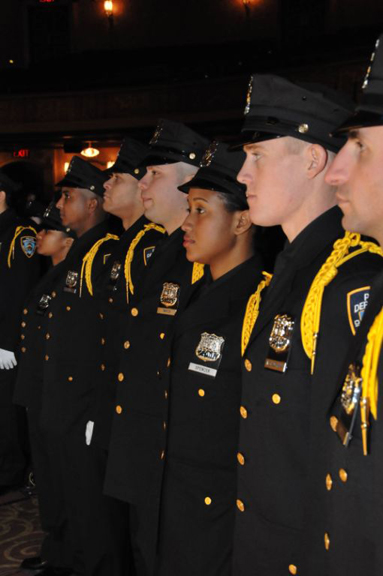 L to R: Police Officers Krystle Bohanan, Juan Cabrera, Jonathan Polanco Ortiz, Isac Ramos, Teka Spencer, Thomas McLaughlin and John Paul Plank received awards Monday.
Mayor Bloomberg presented the Mayor's Award to Police Officer Daniel Ciluffo, for earning the highest overall average in today's class. In addition, Police Officer John Paul Plank received both the Police Commissioner's Award for earning the second highest overall average and the First Deputy Commissioner's Award for earning the highest academic average. Police Officers Thomas Mclaughlin and Teka Spencer received the Chief of Department's Award for earning the highest physical fitness runoff average. Police Officer Isac Ramos received the Deputy Commissioner of Training Award for earning the highest firearms proficiency average. Police Officers Jonathan Polanco Ortiz received the Commanding Officer's Award for exceptional police duty. Police Officer Juan Cabrera received the Patrolmen's Benevolent Association Award as outstanding company sergeant. Police Officer Krystle Bohanan received the New York City Police Foundation Award for exceptional community service.