New York City Police Commissioner Raymond W. Kelly told law enforcement officials today that the actions of alleged terrorist Najibullah Zazi underscore the importance of interagency alliances. Commissioner Kelly spoke at a regular meeting of the Northeast Corridor Coalition, a consortium of police and transit agencies established in 2005 to improve security along the Amtrak rail line between New York and Washington, D.C. He was joined by Amtrak Police Department Chief John J. O'Connor in calling the meeting.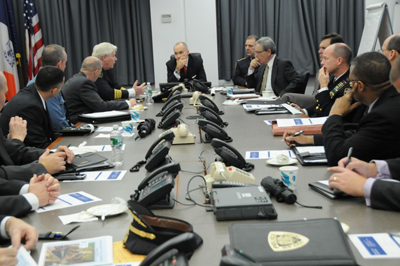 "Najibullah Zazi was not confined to a single location, having traveled between New York, Pakistan, and Colorado in the course of this plot. This case was a crucial test of the partnerships forged between police and intelligence agencies in the years since September 11," Commissioner Kelly said. "As we head into the holiday travel season, when a growing number of commuters rely on rail systems, we must continue to work together to secure mass transit and to protect the people who use it."
Zazi was discovered to have a laptop computer and email accounts containing specifications for concocting, among other explosives, Triacetone Triperoxide ("TATP"), which was the chemical used in the 2005 London train bombings and intended to be used in the 2001 "shoe bomb" plot by Richard Reid. Zazi was charged in September with conspiracy to use weapons of mass destruction and remains in federal custody in Brooklyn, New York.
NYPD Deputy Commissioner Intelligence David Cohen provided an intelligence update to attendees of Thursday's meeting, including Amtrak Deputy Chiefs Curtis Hart and John Tewey; Amtrak Counter Terrorism Inspector Neil Trugman; Thomas Wilkins, Director, Metropolitan Police Department; Kevin Gaddis, Captain, Washington Metropolitan Area Transit Authority; David Engel, Major, Baltimore Police Department, Intelligence Section; Paul Sheppard, Lieutenant Colonel, Baltimore Police; Robert Coupe, Colonel, Delaware State Police; Marcus L. Brown, Chief of Police, Maryland Transportation Authority Police; Errol Etting, Director, Maryland Transportation Authority Police; Stephen Johnson, Deputy Commissioner, Philadelphia Police Department; Dennis McNulty, Major, New Jersey State Police; Drew Lieb, Deputy Director, State of New Jersey Office of Homeland Security & Preparedness; Andrew Ashmar, Captain, Pennsylvania State Police; Joseph Kelly, Acting Chief, New Jersey Transit Police and Kevin Amberg, Deputy Chief, New Jersey Transit Police. Joining Commissioner Kelly from the NYPD were Chief of Department Joseph J. Esposito, Deputy Commissioner, Counterterrorism Richard A. Falkenrath, and Chief of Transit James Hall in addition to Deputy Commissioner Cohen.
The NYPD instituted a subway bag-check program in the aftermath of the 2005 London bomb attacks, and continuously conducts a series of security measures designed to thwart both terrorism and conventional crime. A video overview of its transit security can be seen at http://www.nyc.gov/html/nypd/html/pr/videos.shtml.
###