NYPD PHOTOS: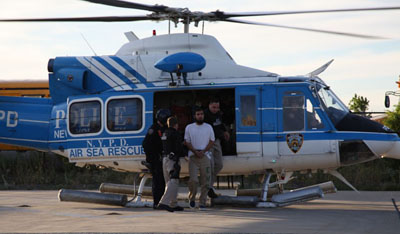 An NYPD helicopter transported suspected terrorist Najibullah Zazi, with U.S. Marshals, from Teterboro Airport in New Jersey to a police facility in Brooklyn Sept. 25. Zazi will be arraigned Sept. 29 on charges of conspiracy to use weapons of mass destruction.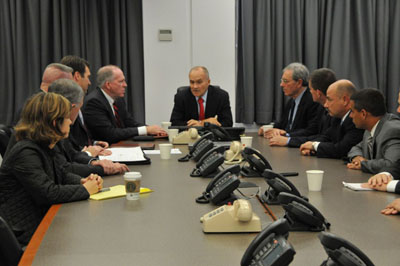 Police Commissioner Raymond W. Kelly led a briefing Sept. 26 on the Zazi investigation with other NYPD officials for John O. Brennan, Assistant to the President for Homeland Security and Counterterrorism. President Barack Obama called into the meeting to express his "appreciation and admiration" for the NYPD and its role in disrupting the terror plot, citing the NYPD Counterterrorism and Intelligence Divisions, led by Deputy Commissioners David Cohen and Richard Falkenrath, respectively. The President also thanked the NYPD for its coverage of the annual United Nations General Assembly.
Statement from the White House
Statement From White House Press Secretary Robert Gibbs:
"Earlier today the President called into a counterterrorism briefing the NYPD was giving John Brennan, the President's counterterrorism and homeland security advisor to thank them for their outstanding work during the United Nations General Assembly and to express his appreciation and admiration for the NYPD's terrific work throughout the on going terrorism investigation. The President told the NYPD that he is particularly grateful for the exceptional teamwork that has been abundantly evident over the past several weeks with other police departments and with Federal departments and agencies and said they have the respect and gratitude of all New Yorkers and all Americans. In addition, the President is grateful for the extraordinary work being done by the employees of the Department of Justice and previously called FBI Director Mueller to express his gratitude for the strong work of the Bureau and underscored the need to maintain vigilance and to continue the strong investigative and intelligence work that is critical to protecting the homeland from terrorist attacks."
Left to right:
Katherine Lemire – Special Counsel to the Police Commissioner
Deputy Inspector John Nicholson – Joint Terrorist Task Force
Assistant Chief James Waters – Commanding Officer Counterterrorism Bureau
Deputy Commissioner Richard Falkenrath
John O. Brennan – Assistant to the President for Homeland Security and Counterterrorism
Police Commissioner Raymond W. Kelly
Deputy Commissioner David Cohen
Deputy Chief James Shea – Commanding Officer JTTF
Lieutenant Joseph Falco – JTTF
Assistant Chief Thomas Galati – Commanding Officer Intelligence Division
Not Pictured:
Deputy Chief Matthew Pontillo – Executive Officer Intelligence Division
Deputy Inspector Joseph Herbert – Executive Officer JTTF
###