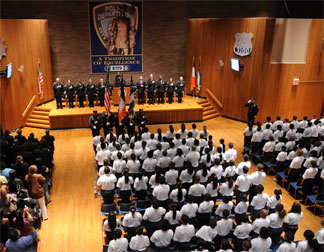 Graduates of the 2009 Summer Youth Police Academy stand at attention during their graduation ceremony Thursday at Police Headquarters.
Police Commissioner Raymond W. Kelly today presided over graduation ceremonies for approximately 550 youth ages 10 to 17 who participated in the New York City Police Department's Summer Youth Police Academy, now in its 14th year.

"We are very proud of our youth police academy, and of the young men and women who participate in it," Commissioner Kelly said. "I commend you for having the maturity and for making the commitment to spend some of your summer with us. You are now among the best informed members of the public when it comes to understanding the nature of police work."

The NYPD Youth Police Academy is a six-week program in which students attend classes on drug prevention, gang resistance, law and behavioral science, as well as visit specialized police units including Emergency Service, K9 and Mounted, in addition to other activities. The program, which is offered through the Department's Community Affairs Bureau, is taught by police officers and convened at public schools located in each of the five boroughs.

More information about the NYPD Youth Police Academy, and other programs for young people offered by the NYPD, is available on the Internet at http://www.nyc.gov/html/nypd/html/community_affairs/youth_programs.shtml.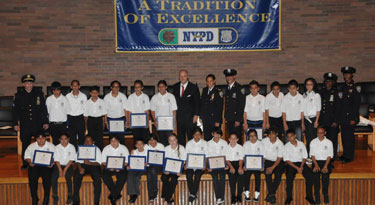 Some of the members of the Summer Youth Police Academy pose with Commissioner Kelly.
###