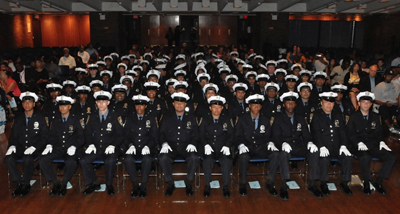 The latest class of New York City Traffic Enforcement Agents
prepares for assignments throughout the five boroughs.
Police Commissioner Raymond W. Kelly today presided over graduation ceremonies for 79 new Traffic Enforcement Agents. He said:
"Our Traffic Enforcement Agents make enormous contributions to the city and deserve the highest level of protection and the respect of all New Yorkers – after all, 8.4 million people could not walk, drive, and bicycle through the city; commercial trucks could not reach their destinations, and businesses could not function without the rules you enforce.
"You have every reason to feel proud to be a New York City Traffic Enforcement Agent. Traffic fatalities are down 13% so far this year – the lowest levels since 1910. Injuries and accidents with injuries are also down. All these decreases are part of a pattern of growing safety in New York.
"This is a period of historic progress and you are now a part of it."
Traffic Enforcement Agents are uniformed, civilian personnel of the Department. More information about becoming a Traffic Enforcement Agent can be found at:
http://www.nyc.gov/html/nypd/html/careers/civilian_opportunities.shtml#traffic_enforcement.
A video about Traffic Enforcement Agents can be seen via the NYPD Press Room,
http://www.nyc.gov/html/nypd/html/pr/videos.shtml.
Related: http://www.nyc.gov/html/nypd/html/pr/pr_2009_ph08.shtml
###