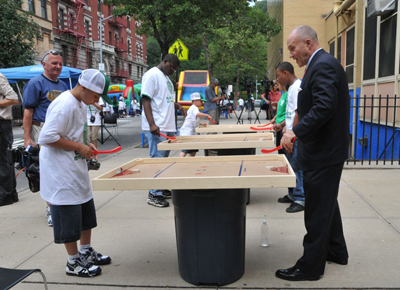 NYPD PHOTO: New York City Police Commissioner Raymond W. Kelly celebrates the start of the summer "Play Streets" program with a young table hockey player in Harlem Tuesday. "Play Streets" brings police officers into closed streets and public areas for seven weeks in the summer, to mentor and engage youth in sports, arts and culture, and prevention programs.
Police Commissioner Raymond W. Kelly and Manhattan District Attorney Robert M. Morgenthau commemorated the Police Athletic League's 95th year of "Play Streets" Tuesday, with the opening of the annual summer youth program at the PAL Center in Harlem – one of 75 locations in which Play Streets convenes.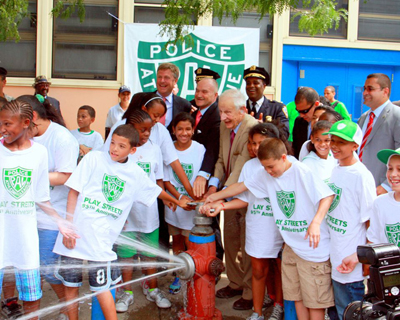 "Play Streets" is a partner program provided by the Police Athletic League and Police Department, in which public areas and streets are closed, except to young people ages 6 to 14, for several weeks in the summer. Participants are engaged in athletic and artistic activities, as well as advised against bullying and educated on anti-drug and gun awareness. Police officers from the local precinct are on hand to provide the prevention training and to mentor youth.
"You are part of a time-honored summer tradition, one that many of your parents participated in too. I hope you take advantage of the opportunity to learn new things, try new activities, and make new friends," Commissioner Kelly said. "You'll also meet a few police officers – that's what the P.A.L. is all about – police and young people, working together to make this city a better place for everyone."
The 2009 Play Streets program runs Monday to Friday from July 6 to August 21 (dark Friday July 31), from 9:00 am-5:00 pm in 75 different locations citywide. For more information about Play Streets, contact the Police Athletic League:
1-800-PAL-4KIDS (hit option 2) or visit the PAL online at http://www.palnyc.org/.
For additional youth programs offered by the NYPD, please visit NYPD Community Affairs on the NYPD website: http://www.nyc.gov/html/nypd/html/community_affairs/youth_programs.shtml
###