NYPD FLEET WEEK SECURITY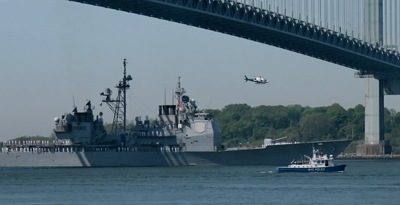 NYPD PHOTO:
NYPD Aviation and Harbor personnel escort the USS Vella Gulf (CG 72) under the Verrazano-Narrows Bridge as it proceeds to its position in the 22nd annual Fleet Week Parade of Ships. The NYPD, in conjunction with the Navy and U.S. Coast Guard, ensures the safe passage of all 13 participating water vessels to a passenger ship terminal on Manhattan's west side, and the Homeport Pier off of Staten Island. Every Fleet Week, the NYPD also deploys SCUBA divers to inspect the tugboats, piers, heliports and destination ports, as well as performs radiation-detection patrols along the shoreline, in addition to providing 24-hour waterside security for the ships, which draw hundreds of thousands of visitors.
Related: Inside the NYPD Harbor/SCUBA podcast - see Episode 1.