The Muslim Officers Society (MOS) on Thursday held a scholarship dinner at which Police Commissioner Raymond W. Kelly was honored as its "Man of the Year." The MOS is the New York City Police Department's newest fraternal organization, established in May 2008. Currently it has about 165 members.
NYPD PHOTOS: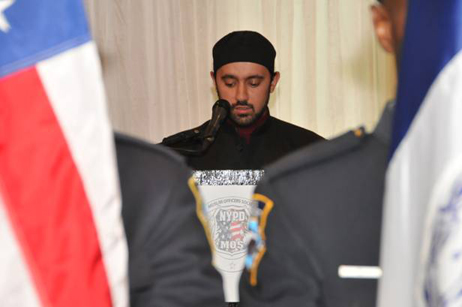 NYPD Chaplain Imam Khalid Latif delivers the opening prayer at the Muslim Officers Society dinner Thursday night in Flushing.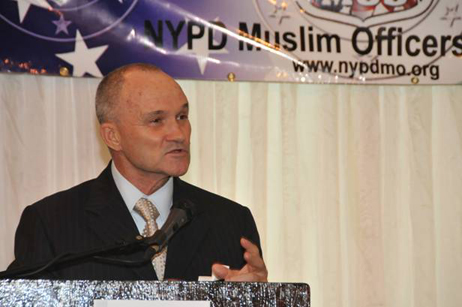 Police Commissioner Raymond W. Kelly was honored Thursday evening by the NYPD Muslim Officers Society for his support of the fraternal organization and its membership. Commissioner Kelly conducts open forums with local Muslim leaders and mosque members, and the Department's community affairs outreach includes a youth cricket league established last summer, and regular visits by officers to local mosques and Islamic businesses under its Community Partnership Program.
L to R (facing camera): Detective Ahmed Nasser, Commissioner Kelly; Ibraheem Nasser, recipient of a Muslim Officers Society college scholarship award. Detective Ahmed Nasser is the president and founder of the Muslim Officers Society and the Department's chief liaison to the Muslim community. He is one of several police officers assigned to outreach to the City's predominantly Muslim areas, the total population of which is estimated to be about 600,000.