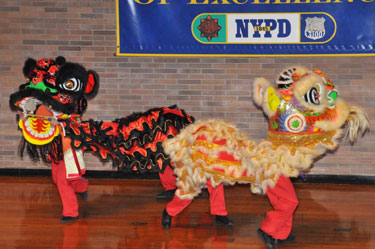 NYPD PHOTO: A Chinese lion dance takes the stage at One Police Plaza for the Department's Asian Heritage Celebration Wednesday.
The New York City Police Department on Wednesday celebrated Asian Heritage Month with a festive program at its headquarters in Lower Manhattan. There are 2,600 Asian and South Asian NYPD members including uniformed and civilian personnel.

"In the last eight years, Asian representation has more than doubled, and grown from 2% of the Department to 5%," Police Commissioner Raymond W. Kelly said. "The same cultural trends and waves of immigration that change the city's population steadily reshape ours - the last Police Academy class included officers born in Bangladesh, China, India, Korea, Pakistan, the Philippines, Taiwan, Thailand and Vietnam."

Senior-ranking members of the Department honored at the Asian Heritage program were Deputy Chief Thomas Chan, Patrol Borough Manhattan South; Deputy Inspector Ellen Chang, Personnel Orders Section; Captain Jack Jaskaran, Office of Management Analysis and Planning, Resource Analysis Section, and Captain Billy Yun, Executive Officer, Police Service Area 6. In addition, Mount Vernon (NY) Police Department Commissioner David Chong, an NYPD retiree, and other Asian American community leaders were recognized for their public service.

Among the Department's official fraternal organizations are the Asian Jade Society, serving Asian American members since 1980; the Korean American Officers Association, formed in 2001, and the Desi Society, formed in 2004.

Of the 56 foreign languages officially spoken among NYPD employees, more than two dozen are native to Asia.
###