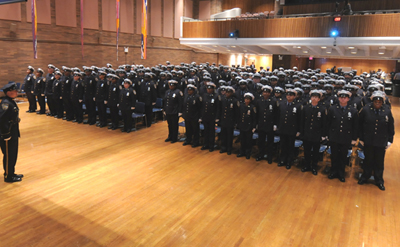 NYPD PHOTO: New Traffic Enforcement Agents stand at attention at a graduationceremony Monday at One Police Plaza.
The New York City Police Department graduated 270 Traffic Enforcement Agents Monday. The new graduates join a force of more than 2,800 agents and supervisors who facilitate vehicular and pedestrian traffic throughout the five boroughs.
Police Commissioner Raymond W. Kelly said: "The statistics are no accident: traffic fatalities are down nearly 25% compared to last year; injuries are down more than 8%, and accidents are down 2%. These results are just one measure of the distance our Traffic Enforcement Agents go to keep millions of commuters and tourists safe."
New York City Traffic Enforcement Agents are trained to direct traffic through intersections in the city's busiest thoroughfares and enforce parking regulations, as well as respond to vehicular and pedestrian emergencies and other police incidents which require traffic and intersection control. They also clear hazardous conditions from city streets and can provide roadside assistance to some motorists. Agents undergo 12 weeks of study before being assigned to locations throughout the city.
Traffic Enforcement Agents are uniformed, civilian personnel of the Department.
###
RELATED: NYPD Supports Program by Brooklyn District Attorney to Prosecute Assaults Against Traffic Enforcement Agents - http://www.nyc.gov/html/nypd/html/pr/pr_2009_ph04.shtml