NYPD PHOTO: U.S. Senator Kirsten Gillibrand greets Ret. Chief Gertrude Schimmel, who in 1978
was the first female appointed Deputy Chief in the New York City Police Department.
Both women were special guests at the 2009 NYPD Women's History Celebration.
Click here for Photo Gallery
Police Commissioner Raymond W. Kelly and the New York City Police Department Policewomen's Endowment Association hosted the Department's annual Women's History Month celebration Tuesday at Police Headquarters. U.S. Senator Kirsten Gillibrand served as special guest speaker, and female members of the service from the Department's Special Operations Division and office of the Deputy Commissioner, Legal Matters were honored for their contributions to the Department.

"As police officers, as civilian members, and as women who are leaving their own distinctive mark on the world of law enforcement, each of you can be proud of the part you have played in driving crime down - 13% compared to last year at this time, and by 38% since 2001," Commissioner Kelly said. "Since 2001, we have seen a 40% increase in the number of women serving in discretionary ranks above captain."

Among the NYPD's executive staff is Chief of Housing Joanne Jaffe, who also addressed attendees. Chief Jaffe is the first female in the Department to serve as a bureau chief. She was appointed in 2003 and joined the NYPD in 1979.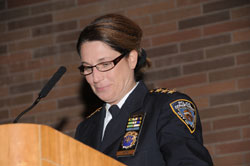 Chief Jaffe addresses attendees at the 2009 NYPD Women's History Celebration.

"Thirty years ago, there were only 350 female police officers. Many people - both in the Police Department, and in society - were dubious about the legitimacy of women in law enforcement," Chief Jaffe said. "Today, over 6,200 women proudly wear our uniform and are integrated within every rank, Division, and Bureau of this Department. As members of the NYPD, we have the privilege and opportunity to make a positive difference in the lives of others, and we answer the call to service with honor, courage and compassion, each and every day."

Honored at Tuesday's celebration were Assistant Commissioner, Legal Matters, Deborah Zoland and all 48 female members of the NYPD Special Operations Division.

Women comprise 18% of the total uniformed police force in the NYPD, 46 of them serve as Captain or above. In addition to Chief Jaffe, Deputy Commissioner Neldra M. Zeigler, Equal Employment Opportunity; Assistant Chief, Patrol Bureau Queens North, Diana L. Pizzuti; Assistant Chief and Commanding Officer, Domestic Violence, Kathy E. Ryan and Deputy Chief, Patrol Services, Joellen F. Kunkel serve among the highest ranking members of the Department.
###