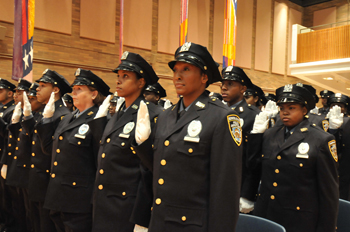 NYPD PHOTOS: The latest class of School Safety Agents assembles for graduation ceremonies at Police Headquarters Tuesday. Nearly 200 new agents will begin work this week at public schools throughout the five boroughs of New York City.
Police Commissioner Raymond W. Kelly presided Tuesday over graduation ceremonies for the latest class of NYPD School Safety Agents. The 184 civilian special patrolmen join their colleagues in preserving and promoting safety for more than 1.1 million students and faculty in public schools throughout the five boroughs of New York City.

"If there is any branch of this department that can be said to impact the future of this city, it is the school safety division," Commissioner Kelly said. "The effects of creating a secure environment in which children can learn are evidenced in safer schools across the city. You are joining a team that is second to none in fighting crime and promoting safety in our schools."

So far this academic year, crime in schools citywide is down 10.42% compared with the same period in 2008, including a 31.27% decline in violent crimes. In " schools (campuses experiencing the greatest number of disturbances), the presence of School Safety Agents has further reduced crime by 47.06%.

School Safety Agents work in each of the more than 1,600 elementary, intermediate and high schools in the New York City public school system. Prior to their assignment, they must complete 14 weeks of instruction in law, police and behavioral sciences, and physical training, among other classes administered by the CALEA-accredited New York City Police Academy. The current filing period to take the civil service examination to become a New York City School Safety Agent closes April 21. For more information, see: http://www.nyc.gov/html/nypd/html/careers/school_safety.shtml .