Police Commissioner Raymond W. Kelly presided today over a graduation ceremony for 42 new 911 police operators. The new operators join an existing force of 1,049 Police Communications Technicians who process calls and dispatch police assistance throughout the five boroughs of New York.

"Police operators are the conduit through which all manner of emergency, from crimes in progress to a passenger airplane crash, must be channeled to first responders," Commissioner Kelly said. "Your role in getting help to those who need it - and information to those who must provide assistance - is vital to the city and to the New York City Police Department."

Police operators handled 11.3 million police-emergency 911 calls in 2008, or approximately 31,000 calls per day. More than 31% of calls require a police officer response, or dispatch.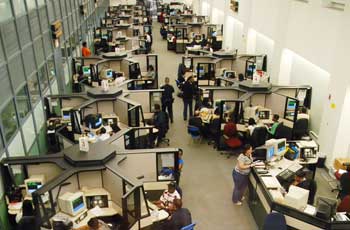 Police operators work in the 911 call center in Brooklyn. NYPD Photo Unit
Police Communications Technicians operate out of the 911 call center in Brooklyn after completing eight weeks of training, during which they must master nearly 500 different emergency scenarios and the 911 operating system. Since September 2008 all PCTs are trained in the receipt and remittance of information relating to digital photographs and video from callers using cellular devices to the Department's Real Time Crime Center.
###