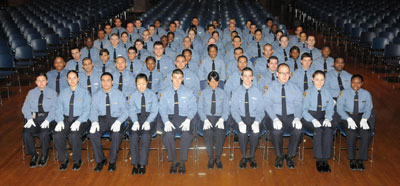 Police Commissioner Raymond W. Kelly congratulated dozens of New York City Police Department cadets who graduated from their Cadet Corps program Wednesday, Jan. 7. The group of young men and women will be among 250 police recruits officially sworn on Jan. 14th in a ceremony at Police Headquarters.

Commissioner Kelly said: "More than 1,500 current members of the NYPD, from police officers through our executive corps, started their careers as cadets. I am proud to count myself among them; the experience gave me insight and appreciation for the job and made my subsequent decision to join the department an easy one. Our graduates today carry on this proud tradition and I look forward to welcoming all of them as the city's newest police officers at next week's swearing-in ceremony."

Of the cadets being promoted to the Police Academy Jan. 14, 68.1% are minority; 44.8% Hispanic, 20.3% Black, 2.9% Asian; 31.9% are White. Over 60% are male; 40.5% are female.

NYPD police cadets are college students who work in all units of the New York City Police Department prior to their matriculation. Those who have passed the Police Academy entry exam are accepted into the Police Academy automatically after receiving their Bachelor's degrees. Qualified police cadets receive up to $20,000 in tuition assistance with no repayment after two years of service as a police officer. NYPD cadets also are paid an hourly wage of $13.09.

Since 2007, selected NYPD cadets have conducted the Department's bi-annual Citizen Satisfaction Survey, in Russian, Haitian, French, German, Italian, Bengali, Korean, Chinese, Polish and Spanish. The NYPD Cadet program is an apprenticeship during which participants perform primarily administrative duties.

Cadets are required to reside in New York City and attend college full-time within the five boroughs, studying toward a four-year degree. They must be at least 18 years old when they enroll. There are currently 565 college students serving as NYPD cadets.

To learn more about the NYPD cadet program, visit nypdcadets.com or the Careers section of the NYPD website on nyc.gov.

###
PHOTOS, NYPD Photo Unit:

ABOVE: Sixty-seven NYPD cadets who graduated college and completed their Cadet Corps program will enter the New York City Police Academy Jan. 14.

BELOW: Commissioner Kelly congratulates Cadet Alexandria Lanceri, the valedictorian of the December 2008 graduating cadets.