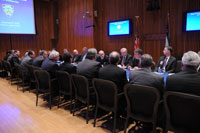 Thirty representatives from more than a dozen banks attended a meeting convened by New York City Police Commissioner Raymond W. Kelly at Police Headquarters to address measures bank security should take to protect against robberies in their institutions' branches in the five boroughs. The meeting follows a 57% increase in bank robberies occurring in 2008 compared with 2007. Deputy Inspector Charles Neacy of the NYPD Detective Bureau Major Case Squad provided attendees with an analysis of robbery data, along with best practices recommended by the NYPD and endorsed by the New York Bankers Association.

"The steps that bank leaders take today will increase security for their customers - and deposits - and decrease the chance that they will become targets for criminals. In 2003, facing the then-staggering increase of 225% in bank robberies, we partnered with the Association and bank executives to knock robberies down by over 60% -- once best practices were implemented. We'd like to see the same improvements achieved this year," Commissioner Kelly said.

The NYPD established and encouraged best practices for bank security in 2003, including "bandit barriers," visible security cameras and guards. Commissioner Kelly and Deputy Inspector Neacy urged the bankers to more thoroughly implement security measures, which have been neglected or compromised by some institutions in their attempt to create a welcoming environment for customers. There were 444 bank robberies in 2008 citywide, compared with 283 in 2007.

Attendees included representatives from the New York Bankers Association as well as Apple Bank, Astoria Federal Savings, Banco Popular North America, Bank of America, Capital One Bank, Citibank, Flushing Savings, HSBC Bank, JPMorgan Chase/Washington Mutual, New York Private Bank and Trust/Emigrant, Queens County Savings Bank (New York Community Bank), Ridgewood Savings Bank, Sovereign Bank, TD (formerly Commerce) Bank, and Wachovia/Wells Fargo.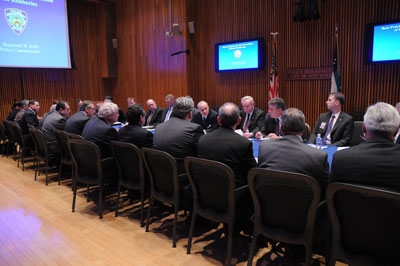 Police Commissioner Raymond W. Kelly discusses with bank officials ways in which their institutions can deter robberies, which increased in 2008.
NYPD Photo Unit.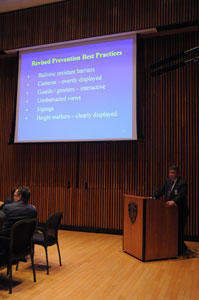 Deputy Inspector Charles Neacy of the NYPD Detective Bureau Major Case Squad reviews best practices to prevent robberies recommended by the NYPD and endorsed by the New York Bankers Association.
NYPD Photo Unit.


###