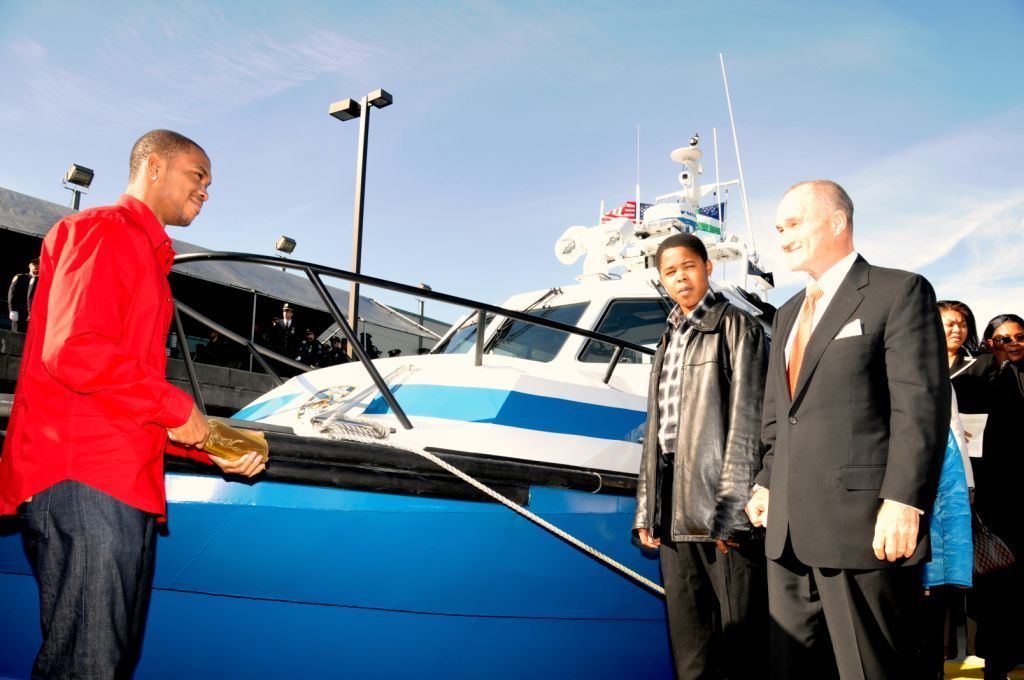 NYPD Harbor Launch No. 40 to Bear Names of Officers Killed in 2003 Gun Buy-and-Bust; Boat Joins NYPD Fleet Performing Proactive Anti-terror Patrol, Rescue, Search and Recovery Operations in New York Harbor
NYPD Photo: (L to R) Christian Andrews, 19, and Stephan Nemorin, 14, join with Police Commissioner Raymond W. Kelly at the christening of NYPD Harbor Launch No. 40, dedicated Monday in memory of their fathers.
Police Commissioner Raymond W. Kelly joined with Deputy Inspector David Driscoll, Commanding Officer of the Harbor Unit, and the families of Detectives Rodney Andrews and James Nemorin Monday in christening a 36-foot police response boat bearing the names of the undercover Firearms Investigations Unit officers, who were killed in the line of duty in 2003 during a gun buy-and-bust operation. The launch will primarily be dedicated to patrol in the Hudson River and joins an NYPD fleet of a few dozen others used by the New York City Police Department Harbor Unit.
"This harbor launch serves as a lasting tribute to Detectives Nemorin and Andrews," Commissioner Kelly said. "There is no question that the work they did saved countless lives, and this boat dedicated in their honor enables us to rescue persons in distress and to keep the city safe from crime and terrorism."
As part of its assigned coverage area, the boat bearing both Detectives names will patrol the Hudson River from the Battery to the George Washington Bridge in upper Manhattan, and be based at the NYPD Harbor David base, near the USS Intrepid at Pier 86 on Manhattan"west side. The 36-foot vessel is equipped with two diesel engines and an infrared camera, and will be used in search and rescue, evidence recovery and other Harbor patrols. Its three-person crew also will utilize radiation-detection technology, and can deploy underwater cameras and SCUBA divers in support of counterterrorism maritime patrols.
Detectives Andrews and Nemorin joined the New York City Police Department in 1996, attending the Police Academy together. Both were seven-year veterans of the force, and had previously served as narcotics officers among other assignments.

As undercover officers in the Firearms Investigation Unit, they posed as gun buyers and were shot and killed in March 2003 on their way to a purchase from an illegal gun dealer. An immediate and widespread manhunt was launched for the suspects in the double homicide, and within days of the murders, three of the perpetrators pleaded guilty to second-degree murder charges. The shooter, Ronell Wilson, was indicted on first-degree murder charges and sentenced by a federal jury to death in January 2007.
Rodney Andrews and James Nemorin were promoted posthumously to Detective First Grade.