Police Commissioner Raymond W. Kelly Tuesday presented the New York City Police Department's annual Theodore Roosevelt Award to six members of the service who returned to their jobs after overcoming severe medical hardship.

Lieutenants Timothy Brown and Mary Christine Doherty, Sergeant Michael DeMarfio, and Detectives Rafael Del Rosario, Nivrose Duncan and Tracey Jones each were honored at an award ceremony and reception in Manhattan.

"Each year, we find vivid examples of courage and determination in the Police Department," Commissioner Kelly said. "These cases particularly speak to the depth of character, physical strength and determination of our officers. On behalf of the Department, I thank all of our honorees, past and present, for their exceptional devotion to service and for the model of courage they each provide."

Theodore Roosevelt was the President of the New York City Police Commission from 1895 to 1897. He persevered physical challenges brought on by a debilitating heart condition and childhood asthma, and rose in influence and prominence throughout his lifetime, which is most often remembered for his United States Presidency from 1901 to 1909. Roosevelt also served as Assistant Secretary of the Navy and Governor of New York. The Department has bestowed awards in his name since 2005.

About the honorees
---
Lieutenant Timothy Brown earned 10 medals and a Commendation for exemplary performance throughout the first 17 years of his career, during which he also maintained perfect attendance. The first time he reported sick was in December 2007, when Lt. Brown underwent surgery for thyroid cancer that left him temporarily mute. Lt. Brown returned to work 10 weeks after that operation and is currently assigned to the Investigations Unit of Patrol Borough Queens North.
---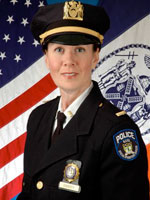 Lieutenant Mary Christine Doherty was diagnosed with tongue cancer in 2007 and underwent an extensive 14½ hour procedure to remove the tumor, during which doctors had to break her jaw, dissect her neck and take out her lymph nodes and salivary glands. Within one month of a final procedure to remove a metal plate and six screws used to secure her jaw, Lt. Doherty returned to work as Operations Coordinator for the Special Operations Division, which includes the Department's Emergency Service Unit, Harbor/SCUBA, Aviation, Canine and Mounted Units.
---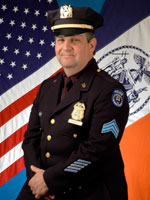 Sergeant Michael DeMarfio spent hundreds of hours assisting the September 11th rescue and recovery operation at Ground Zero and was diagnosed this year with non-Hodgkin's lymphoma. Despite this, Sgt. DeMarfio has not missed work except for his initial biopsy and recovery. Additionally, he chooses to remain with the Department while managing chronic obstructive pulmonary disease with medication, rather than retire with disability pension. Sgt. DeMarfio is a Sergeant Supervisor of Detectives in the Bomb Squad who has served the NYPD for 27 years.
---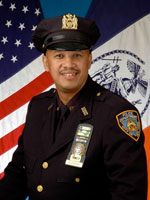 Detective Nivrose Duncan has been an integral member of Patrol Borough Brooklyn South Community Affairs Unit where, as a Haiti native and speaker of Creole and French, he is an organizer of the annual West Indian Day Carnival. Despite enduring chronic liver disease for much of his career, Det. Duncan maintained excellent attendance until his condition required an urgent liver transplant in 2006. Although complications from that surgery resulted in a second operation for Det. Duncan a week after his transplant, he recovered and returned to work in less than a year.
---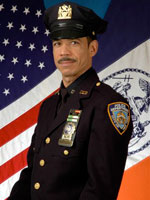 Detective Rafael Del Rosario was diagnosed with esophageal cancer last June resulting in a surgery to remove parts of his esophagus and stomach. After losing over 15% of his body weight, Det. Del Rosario returned to work in the Internal Affairs Bureau Intelligence Section following a four-month recovery. A 24-year member of the Department, he also is a veteran of the United States Marine Corps and member of the New York Air National Guard and with and has twice been deployed as part of Operation Iraqi Freedom.

---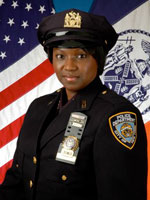 Detective Tracey Jones had two mastectomies in 1996 and underwent a hysterectomy eight years later to prevent ovarian cancer. After more than 30 surgeries and numerous hospitalizations and radiation treatments, Det. Jones is free of cancer and provides encouragement to other members of the service who are diagnosed with the disease. She is a member of the Police Self-Support Group counseling organization and Police Organization Providing Peer Assistance (POPPA), and is assigned to Employee Relations.
---
###
Related: FOUR FINEST RECEIVE THEODORE ROOSEVELT AWARD http://www.nyc.gov/html/nypd/html/pr/pr_2008_048.shtml