The New York City Police Department celebrated its Hispanic heritage Oct. 14 with a milestone in Department diversity: nearly one in three New York City Police Officers, or 29% of that rank, is Hispanic. Among all uniformed ranks, over one-quarter, or 25.6%, is Hispanic.
Since Police Commissioner Raymond W. Kelly returned to the Police Department in 2002, there has been a 69% increase in the number of Hispanics promoted to discretionary ranks above Captain, and a 55% increase in the number of Hispanics occupying discretionary ranks below captain, compared to 2001, according to analysis by the department's Personnel Bureau. This represents increases of 23% and 11% respectively from last spring, when a similar analysis in May 2008 showed a 46% increase in promotions of Hispanics above the ranks of captain, and 44% increase or discretionary promotions below the ranks of captain.

There were 13 Hispanics above the rank of Captain in 2001, compared to 22 now, an increase of 55%. They include two bureau chiefs - three-star chiefs - (compared to none in 2001); two deputy chiefs (compared to one in 2001); four inspectors (compared to two in 2001) and 10 deputy inspectors (compared to six in 2001).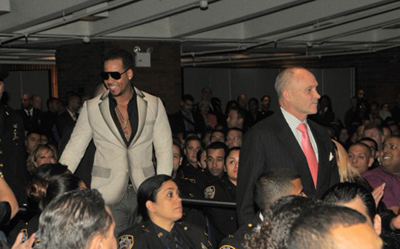 Commissioner Kelly presided over a program at Police Headquarters commemorating Hispanic Heritage Month, which runs Sept. 15 through Oct. 15. Recording artist Anthony Santos, a.k.a. Romeo of the Bachata band Aventura, and Dr. Feniosky Peña-Mora, dean of the School of Engineering and Applied Science at Columbia University were special guests.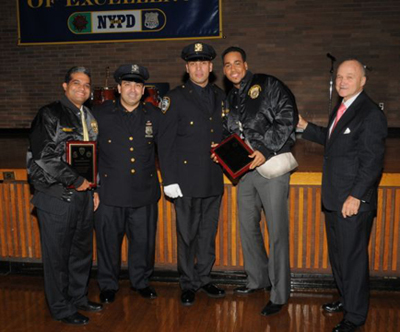 "Even among our Hispanic members, there is enormous diversity," Commissioner Kelly said. "Our officers were born in the United States and Puerto Rico, as well as in Colombia, Costa Rica, the Dominican Republic, Ecuador, Mexico, Nicaragua, Panama, Peru and Venezuela. This diversity enhances our ability to serve New Yorkers."

Assistant Chief Edward Delatorre of the NYPD Housing Bureau and Deputy Chief Robert Lucena of the Personnel Division were honored Wednesday by the NYPD Hispanic Society and the New York Dominican Officers Organization, for their service and contribution to the Department as Hispanic executives. The highest ranking member of the NYPD is Chief of Personnel Rafael Pineiro, who was born in Spain and spent time as a boy in Cuba.

The Police Department since 2002 has grown increasingly diverse, reflecting the population of New York City, which is 27% Hispanic (U.S. Census September 2009). Uniformed personnel in the NYPD are 25.6% Hispanic, 16.4% black, 4.5% Asian and 53% white.
###
Related: Mexican Singer-Actress Thalia Helps NYPD Commemorate Hispanic Heritage Month (http://www.nyc.gov/html/nypd/html/pr/pr_2008_PH16.shtml)