DETECTIVE RUSSEL TIMOSHENKO AND DETECTIVE HERMAN YAN
NAMED POLICE OFFICERS OF THE YEAR
BY NEW YORK GOVERNOR PATERSON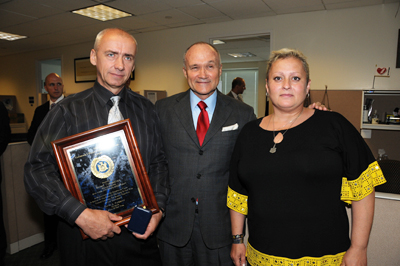 Leonid Timoshenko, Commissioner Kelly, Tatyana Timoshenko.
The Timoshenkos received a shield and plaque for their son Russel.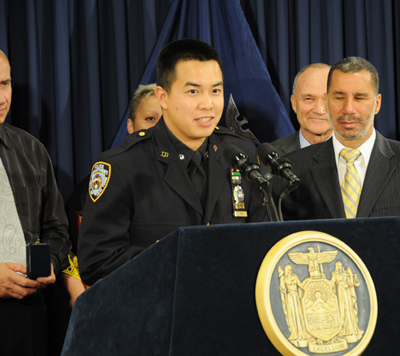 Detective Herman Yan survived being shot in the arm and chest,
and the shooting of his partner at close range, in July 2007.
New York State Governor David A. Paterson today bestowed Police Officer of the Year honors on Detectives Russel Timoshenko and Herman Yan for the heroism they exhibited on July 9, 2007, when the patrol partners were shot in Brooklyn's 71st Precinct by three men in a suspicious vehicle, whom the then-police officers had pulled over for stolen license plates. Officer Russel Timoshenko died of his injuries July 14 and was posthumously promoted to Detective later that month. Officer Yan also was promoted for his demonstration of bravery and quick action in the moments after the shooting, despite being wounded at close range in his arm and chest.
"When Officers Yan and Timoshenko became sworn members of the New York Police Department, they promised to 'serve and protect' the public, knowing full well the implications of that oath and the danger that would become a part of their everyday lives," said Governor Paterson. "Yet they accepted that responsibility and valiantly carried out their duties. Recognizing these brave officers is not only the right thing to do, it is a personal honor. My respect for these courageous men is immeasurable."
Deputy Secretary for Public Safety Denise E. O'Donnell said: "By honoring Officers Yan and Timoshenko we honor all of the brave and dedicated law enforcement officers who risk their lives for us every day. Every citizen, myself included, owes a debt of gratitude to Officers Yan and Timoshenko, and their colleagues around the state who keep our communities safe."
New York City Police Commissioner Raymond W. Kelly said: "Two years ago, Police Officers Russel Timoshenko and Herman Yan displayed the utmost courage in the face of mortal danger. New Yorkers will never forget their bravery or Russel's supreme sacrifice. I want to thank Governor Paterson for honoring these exceptionally deserving men."
In a ceremony held on July 27, 2007, Police Officer Russel Timoshenko was posthumously promoted to Detective First Grade and his partner, Police Officer Herman Yan, also was promoted to Detective. The NYPD awarded a Medal of Honor posthumously to Detective Timoshenko in 2008, which Detective Yan also received. The men were on patrol in Brooklyn's 71st Precinct in a marked police car on July 9, 2007 when they observed a suspicious vehicle whose license plates belonged to another car. After instructing the driver to pull over, the officers were fired upon multiple times as they approached the vehicle. Officer Timoshenko was hit twice in the face and Officer Yan was struck in his arm and chest, where his bullet resistant vest helped save his life. Officer Yan returned fire, radioed for help and provided key descriptions and details to the responding officers. Officer Timoshenko succumbed to severe injuries after five days in intensive care. Three perpetrators were caught after a multi-state manhunt, and two were convicted of Detective Timoshenko's murder, among other charges.
The Police Officer of the Year Award was initiated in 1983 to recognize a single police officer or team for an exceptional act of valor symbolizing the service of police in New York State. Seventeen officers from eleven law enforcement agencies were nominated statewide for the 2007 award.
In attendance at Tuesday's ceremony were Detective Timoshenko's parents, Tatyana and Leonid, other relatives of Russel and members of his former command including Detective Yan, whose wife also attended.
Related: Timoshenko, Yan Receive NYPD Medal of Honor (HYPERLINK TO http://www.nyc.gov/html/nypd/html/pr/pr_2008_21.shtml)