The New York City Police Department today elevated two of its executive staff and promoted new senior commanders in the City's most prominent Patrol Boroughs, among other promotions announced today by New York City Police Commissioner Raymond W. Kelly at a ceremony inside Police Headquarters.
"This year, because of the economy, we haven't been able to hold promotions ceremonies each month. But we're helping to make up for lost time with this ceremony, which includes one of the largest groups of executive promotions we've had in years.
"We are seeing dramatic successes in every part of the Department: crime is down by 12% from last year, with declines in every major category. Homicides are down 19%, and if current trends hold, we'll beat the historic low of 2007 handily this year. So far this year there have been an average of five crimes per day in the subways, compared to an average of 49 per day in 1990. Bias crime, although up nationally, is down in New York because of our proactive Hate Crimes Task Force.
"There's a common denominator in all of the successes I've described: outstanding leadership. That quality is reflected throughout our executive promotions today," Commissioner Kelly said.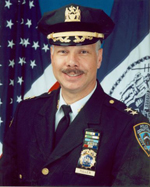 Chief James Tuller was promoted to Chief of Transportation, a three-star bureau chief position. Previously Chief Tuller served as Assistant Chief and Commanding Officer of Patrol Borough Manhattan South. He joined the Department in 1973 and has held a number of positions including Executive Officer for Patrol Boroughs Manhattan North and South, and Commanding Officer of PSA 5, Housing Borough Manhattan, and Support Services for the Housing Police Department.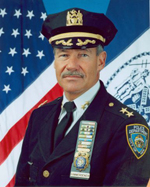 Chief Charles Kammerdener was promoted today to Chief of Special Operations, also a three-star post. He remains the Division's Commanding Officer, with executive authority for the Department's elite Emergency Service Unit and the highly specialized Aviation, Harbor/SCUBA, as well as K9 and Mounted Units and Emergency Medical Squad. In his 35-year career with the Police Department, Chief Kammerdener also has commanded Detective Borough Bronx, the Narcotics Division, PSA 2, the PSA 7 Detective Squad, and PSA 2 Safe Community, and has served as the Housing Police Chief of Detectives.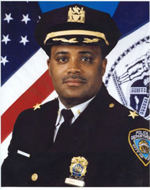 Assistant Chief Philip Banks was promoted from his capacity as Deputy Chief and will now command Patrol Borough Manhattan North, after its former commander, Assistant Chief Raymond Diaz, was appointed to Manhattan South replacing Chief Tuller. For the last two-and-a-half years Chief Banks has served as Executive Officer of Patrol Borough Brooklyn South. A 23-year veteran of the Police Department, he has led the 79th precinct, the 81st precinct and the Central Park Precinct, as well as served as Executive Officer of the 73rd precinct.
Chief Tuller, Chief Banks and Chief Diaz are among the Department's highest ranking minority officers. Since 2001 the number of Hispanics in the Department's senior staff – occupying ranks of Captain or higher – has increased from 27 to 56. The number of blacks in the Department's top tier has risen to 34 from 22 since the end of 2001.
###