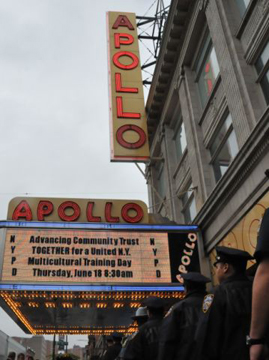 Police Commissioner Raymond W. Kelly kicked-off intensive multicultural immersion training for approximately 260 uniformed New York City Police recruits Thursday. The recruits assembled for roll-call and marched from the Adam Clayton Powell Jr. State Office Building to the Apollo Theater in Harlem, where they were addressed by a panel of community leaders invited by Commissioner Kelly to discuss issues concerning the police and community relations.

"We could have chosen a smaller space given the smaller size of this class, but, as with previous classes, we wanted to bring you to this historic theatre in the heart of Harlem," Commissioner Kelly said. "This workshop is about understanding and appreciating the diverse communities you will serve as officers on patrol and the Harlem community is an emblematic place to begin this critical dialogue."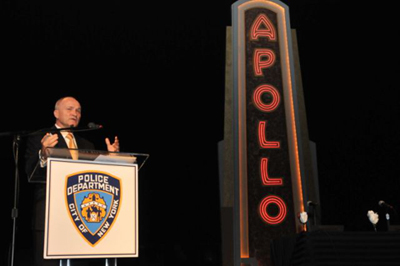 Police Commissioner Kelly addresses Police Academy recruits attending the Department's multicultural training, the first day of which began at the Apollo Theater in Harlem.
The NYPD introduced multicultural immersion training for police recruits in June 2007. The Police Academy course, titled "Advancing Community Trust (ACT)-Together for a United New York," culminates six months of comprehensive community relations and law enforcement training that police recruits undergo in the Police Academy, and is in addition to continued in-service community-relations training provided to all police officers.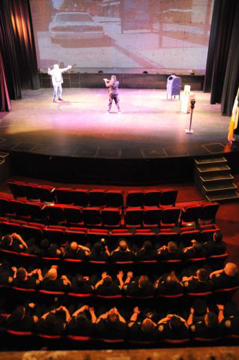 Recruits observe one of three role-play presentations designed to demonstrate correct procedure and professional interaction.
The ACT multicultural immersion course is designed to motivate improved understanding by police recruits of the communities they'll serve, to enhance professionalism and to foster mutual respect between the Department and New York City citizens. Recruits this year will attend presentations by the Civilian Complaint Review Board, Commanding Officers and prominent community members from various precincts, and others, and will receive and discuss information covering multiple ethnic and religious communities, sexual orientations, and youth perspectives. Lecture, video and role-play presentations at the Apollo are augmented with interactive sessions in the Police Academy, leading up to graduation at Madison Square Garden on July 2.

A Community Concerns Panel kicks off the first of four days of multicultural training for each class. The June 2009 panelists are:
Commissioner Margarita Lopez, New York City Housing Authority


The Rev. Al Sharpton


Bishop Lester Williams, Senior Pastor of the Community Church of Christ, Jamaica, New York


Rev. Dr. Herbert Daughtry, National Presiding Minister of The House of the Lord Churches; President, Downtown Brooklyn Neighborhood Alliance


Stanley Crouch, New York Daily News columnist


Dominic Carter, NY1 (moderator)
Previous Community Concerns Panelists include:

Luis Garden Acosta
Gerson Borrero
Wyclef Jean
Rev. A.R. Bernard
Rev. Calvin Butts
Dennis DeLeon
Rev. Floyd Flake
Jeff Fox
Richard Green
Bob Law
Errol Lewis
Angela Martinez
Bob Slade
###