New York City Police Commissioner Raymond W. Kelly today recognized Police Officer Jose R. Diaz for pursuing and providing detailed information leading to the apprehension of an armed individual who wounded three innocent people with a semi-automatic handgun on Wednesday, November 5 in the 30th Precinct.

Officer Diaz was off-duty when he observed a man fire a gun and flee into a livery cab. Three people were struck and wounded as they exited the 'A' train station at West 145th Street and St. Nicholas Avenue as a result of the gunfire. Officer Diaz followed the assailant in his private vehicle while radioing the direction and description of the suspect and livery cab to 911, enabling responding officers to stop the cab and ultimately apprehend the man without incident. A .45-caliber semi-automatic handgun was recovered from inside of the vehicle.

The certificate of recognition reads:

"Presented to Police Officer Jose R. Diaz, who, on Wednesday, November 5, 2008 while off-duty, without regard for his personal safety, pursued an armed assailant responsible for shooting three individuals, alerted members of the service and positively identified the suspect. Officer Diaz acted in the finest traditions of the New York City Police Department, and brought great credit upon himself, the NYPD and the City of New York."

Officer Diaz is a three-year veteran of the Department and currently is assigned to the Transit Bureau.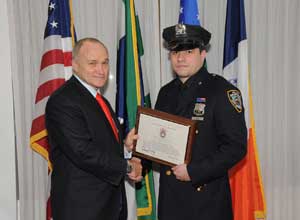 PHOTO: Police Commissioner Kelly presented Police Officer Jose Diaz with a certificate of Recognition for his bravery and decisive action in the pursuit of an armed man who shot three innocent people. NYPD Photo Unit.
###