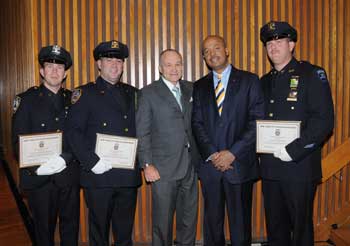 Marc Francois (second from right) attended the NYPD First Responder Awards Ceremony honoring, among other NYPD members, the detectives and police officer who revived him from a seizure he suffered while attending the New York Giants Parade of Champions in February. (L to R), Police Officer Daniel Donaldson, Detective Joseph Delre and Detective David Binder were among 57 members and auxiliary members of the NYPD to be recognized for decisive, life-saving action with CPR and Automatic External Defibrillators. [NYPD Photo Unit]
Police Commissioner Raymond W. Kelly today honored 57 members and auxiliary members of the New York City Police Department whose actions helped to save more than two dozen lives over the last four years and exemplify the use of Cardiopulmonary Resuscitation (CPR) and Automatic External Defibrillators, or AEDs.

"The NYPD really brought its AED program to life in 2002, and there are dozens of lives saved over the years to show for it," Commissioner Kelly said. "I congratulate all the members of the Department whose CPR preparation and performance, and use of defibrillator devices, has benefited so many people."

All New York City Police Officers are trained in Cardiopulmonary Resuscitation, and approximately 14,000 members are certified in the use of AEDs. The NYPD increased the number of AEDs from eight portable units in 1997 to at least one in every precinct, police service area and transit district in 2002. Currently 700 defibrillators are deployed throughout the Department and on every patrol.
###