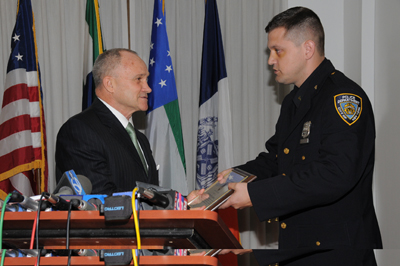 Commissioner Kelly presents Officer Plunkett with a certificate of recognition for his brave and swift response in stopping a would-be bank robber in Queens. (NYPD Photo)
POLICE HEADQUARTERS – Police Commissioner Raymond W. Kelly today presented Police Officer Patrick Plunkett with a Certificate of Recognition for stopping a would-be bank robber in Queens. Officer Plunkett, a three-year veteran of the Department, was off-duty at an HSBC Bank branch on Grand Avenue when he observed an agitated individual pull a gun from his waistband and demand money from the teller.
Commissioner Kelly said, "Officer Plunkett could not have known when he confronted this individual that the robber's gun was a convincing imitation. He is a tough cop, and a very brave one, and on behalf of the entire Department, I want to thank him and recognize his courageous actions."
After confronting the perpetrator and identifying himself as a police officer, Officer Plunkett struggled with the bank robber until police officers from the 104th Precinct arrived. The two men wrestled from the inside of the branch on to the sidewalk in front of it, as Officer Plunkett tried to prevent the man from reaching for a silver firearm in his waistband. It fell to the ground and ultimately was an imitation gun.
The Certificate of Recognition reads,
"Presented to Police Officer Patrick Plunkett, who on Thursday, October 9, 2008, without regard for his personal safety, while off-duty, confronted an armed bank robber and apprehended him. Officer Plunkett's bravery demonstrated the finest traditions of the New York City Police Department, and brought great credit upon himself, the NYPD and the City of New York."
###
PHOTOS:
Police Officer Patrick Plunkett approaches a would-be bank robber in the 104th Precinct moments after the perpetrator displayed a firearm and demanded cash from the teller.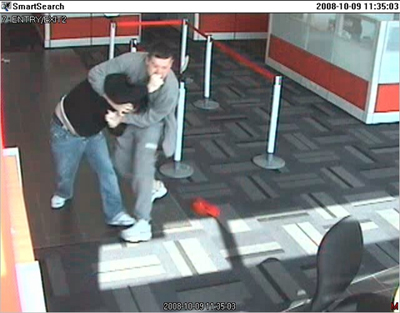 Officer Plunkett and a would-be bank robber struggle inside of an HSBC Bank branch in Queens.