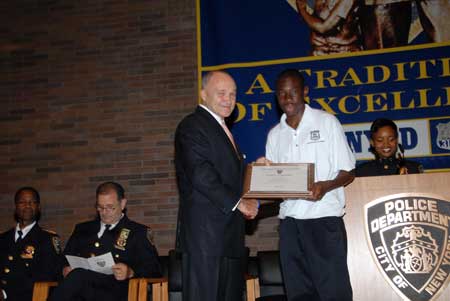 Click for full size image
1) Police Commissioner Raymond W. Kelly congratulates Nervil Ondaan, who represented Brooklyn North and won the Youth Police Academy essay contest.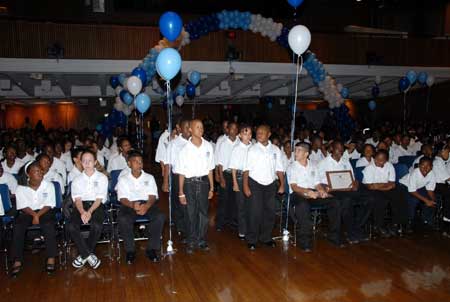 Click for full size image
2) Members of the Youth Police Academy graduated after completing a six-week educational program and introduction to police work.

(NYPD Photo Unit)
More than 600 young New Yorkers graduated from the New York City Police Department's Youth Police Academy. Students from New York City between the ages of 10 and 17 attended the Academy four days a week for six weeks, receiving drug awareness and Gang Resistance Education and Training. They also were introduced to NYPD specialized units including Emergency Service, K9, and Mounted. Members also heard first-hand from experienced officers about what it is like to rush to a crime scene, render aid to a victim, collect evidence and arrest a dangerous criminal. The youth program was started 13 years ago to give New York's young people a sense of what it means to be a New York City Police Officer.
Police Commissioner Raymond W. Kelly said: "Young people are integral in our mission to keep New York City neighborhoods safe. We hope the graduates will build on these experiences and become Law Enforcement Explorers and police cadets and maybe someday, New York City Police Officers."
###