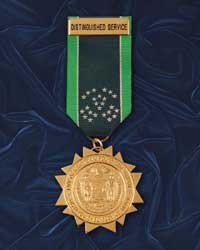 POLICE HEADQUARTERS - Police Commissioner Raymond W. Kelly today presented Distinguished Service Medals to the family members of eight members of the New York City Police Department who were recognized posthumously for their service to the City and work in the wake of the September 11, 2001 attacks.

The families of Detective Kevin Hawkins, Detective Robert Williamson, Detective John Young, Detective James Zadroga, Police Officer Angelo Peluso, Police Officer James Godbee, Police Officer Ronald Weintraub and Police Officer Thomas Brophy received the Distinguished Service Medal on behalf of the deceased members of the service. The officers' names also are displayed on the Wall of Heroes at Police Headquarters, and on the granite Police Memorial Wall in Battery Park City, blocks from where they labored after 9/11.

"Each of the men and women who responded to the World Trade Center and Fresh Kills sites to undertake the heart- and gut-wrenching rescue and recovery work that New York was faced with after September 11th are heroes to this Department, New Yorkers and the world over," Commissioner Kelly said. "Today we formally honor their memory and their service, by presenting a Distinguished Service Medal to their loved ones."



Natalie Hawkins wears the medal given for her father, Detective Kevin Hawkins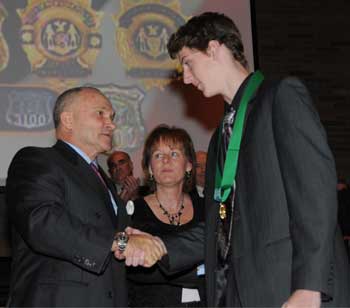 Joseph Williamson receives the medal for his father, Detective Robert Williamson, whose wife Maureen stands near

Fred Young received the medal on behalf of his brother, Detective John Young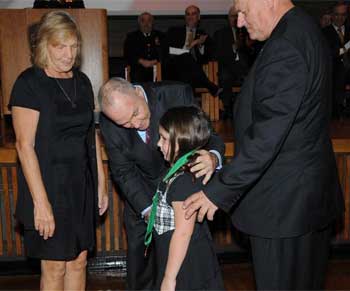 Tyler Ann-Zadroga and her grandparents Linda and Joseph, receive the medal given to Detective James Zadroga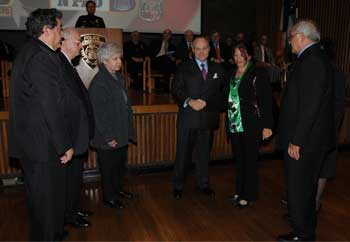 Kim Peluso, wife of Detective Angelo Peluso, receives the medal with her family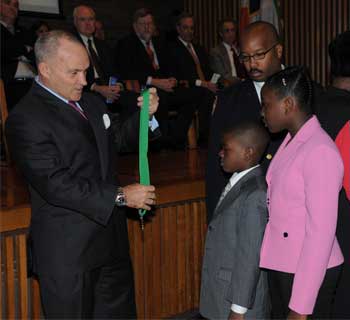 Kai Godbee and his sister Imani receive the medal for their father, Detective James Godbee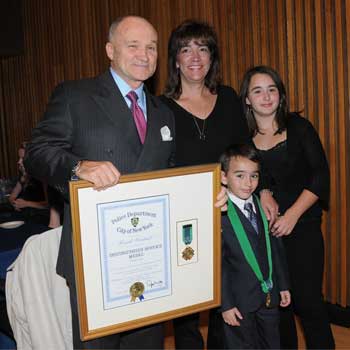 Commissioner Kelly poses with Eileen (center), Ryan and Danielle (right), the family of Detective Ronald Weintraub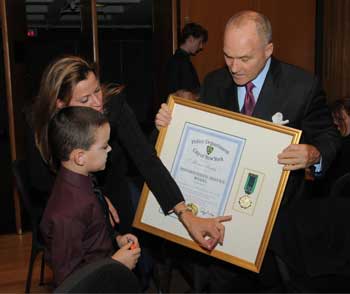 Rita Brophy shows her son Matthew the medal of his father; her husband, Detective Thomas Brophy
The Distinguished Service Medal is awarded to members of the service who suffer deaths as a result of illnesses associated with duty performed under unusual hazard or demand. The police version of the Military Distinguished Service Medal bears the 24 stars and brilliant green, blue and white of the New York City Police flag.

Twenty-three members of the service were killed in the September 11, 2001 attacks. Their names can be found in the Memorial section of the NYPD website.

For photos and brief biographies of the officers, see http://www.nyc.gov/html/nypd/html/pr/pr_2008_045.shtml.
###