Police Commissioner Raymond W. Kelly presented certificates of achievement today to 178 graduates of the New York Law Enforcement Explorer Summer Academy, a three-week professional development and fitness camp for youth. Law Enforcement Exploring is a national program designed to educate and encourage young men and women ages 14-20 toward career opportunities in law enforcement.

Commissioner Kelly is Chairman of Law Enforcement Exploring in New York City. He said: "The skill and teamwork displayed by these young people in the course of their summer camp is impressive, but more so is the fact that each of them, throughout the year, spend their free time serving their communities. It's this kind of dedication that makes many of them great New York City police officers."

NYPD Law Enforcement Explorers are organized through the NYPD Community Affairs Youth Services section. Police officers mentor and work with Explorers year round on community service projects and competitions; each summer, about 200 of more than 4,500 New York City Explorers attend the Law Enforcement Exploring Summer Academy, where they spend three weeks learning about the NYPD, U.S. Customs and Borders Protection, FBI, Secret Service, DEA, MTA, Nassau County Police Department, ATF and other agencies, as well as participate in physical fitness drills and activities including archery, high ropes and military formation. The Academy is held at Fordham University in the Bronx, and Camp Keowa in Sullivan County, New York.

More information about Law Enforcement Exploring and other NYPD programs for youth is available online: http://www.nyc.gov/html/nypd/html/community_affairs/youth_programs.shtml.

A video about NYPD Law Enforcement Explorers also can be seen on the NYPD web site; see Episode 2 under Press Room Videos.
###
PHOTOS: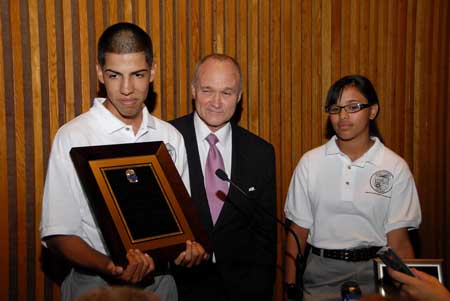 Click here for full size image
Essay winners Steven Ochoa and Evelyn Bermudez join Commissioner Kelly to take questions from reporters after the Law Enforcement Explorers graduation at Police Headquarters.


Click here for full size image
Police Commissioner Raymond W. Kelly and Community Affairs Bureau Chief Douglas Zeigler congratulate Law Enforcement Explorer Arlene Trinidad, recipient of the NYPD Special Achievement Award.