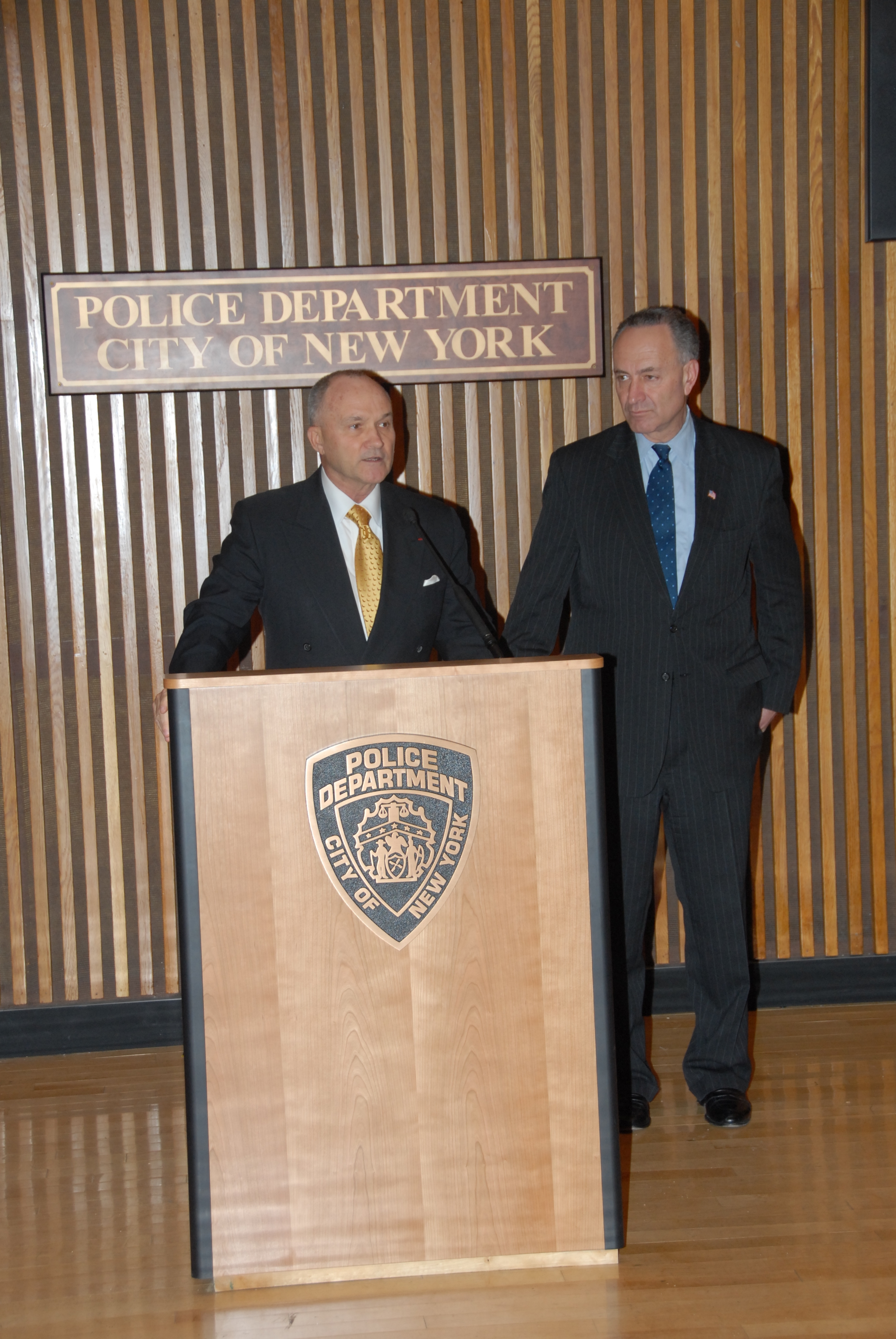 Police Commissioner Raymond W. Kelly joined today with U.S. Senator Charles E. Schumer to appeal a Department of Justice decision to deny the families of Auxiliary Police Officers Eugene Marshalik and Nicholas Pekearo federal death benefits extended to public safety officers. The DOJ denied both families' claims in September after Marshalik and Pekearo were killed in a horrific shooting spree March 14, 2007. A hearing on the denial is scheduled to be held later this week.
        "Auxiliary Police Officers Eugene Marshalik and Nicholas Pekearo acted with immense bravery on behalf of the public in the face of a deranged and armed individual," Commissioner Kelly said. "They were killed in the line of duty and were laid to rest with full honors befitting their heroism. The City of New York has already awarded the death benefits available to Auxiliary Police Officers. It only makes sense that the Department of Justice follow suit and recognize Eugene and Nicholas as public safety officers within the meaning of the law. This was a wrong-headed decision. It needs to be reversed."
        Senator Schumer said, "Following the one year anniversary of their sons' tragic deaths, the Pekearo and Marshalik families are facing another tragedy, having to prove yet again that their sons' heroic actions were committed in the line of duty as public safety officers. Officers Pekearo and Marshalik, in uniform and with the authority of the NYPD, risked their lives to stop a raving gunman. I think that any New Yorker would agree, there is no more fundamental testament to their role as public safety officers than the heroic actions they took that night. I am hopeful that the DOJ can only agree, and will reverse its misinterpretation of the law."
        The mission of the NYPD's Auxiliary Police Program is to provide an enhanced, uniformed community presence in order to prevent crimes from occurring and to quickly report crimes when they do occur. In the event of an emergency, the Police Commissioner, Mayor or New York State Legislature have the authority to confer peace officer status upon Auxiliary Police Officers.
        Auxiliary Police Officers Marshalik and Pekearo were following David Garvin moments after he shot and killed a pizzeria employee in Manhattan's busy West Village, to observe and report his changing locations as he fled the murder scene. Garvin assaulted and fired at both Auxiliary Police Officers before being confronted and ultimately stopped by New York City Police officers.  He was armed with two semi-automatic pistol and 90 rounds of ammunition.
        Under the Public Safety Officers Benefits program administered by the United States Department of Justice, a public safety officer is defined as "an individual serving a public agency in an official capacity, with or without compensation, as a law enforcement officer…" 42 U.S.C. §3796B (9)(A). It further defines a law enforcement officer as "an individual involved in crime and juvenile delinquency control or reduction, or enforcement of the criminal laws…" 42 U.S.C. §3796b (6).
        Officer Pekearo was wearing a bullet-resistant vest at the time of shooting but suffered other fatal wounds. Officer Marshalik was killed by a gunshot wound to his head. The New York City Police Department has since outfitted 2,192, or nearly two-thirds of the members of the Auxiliary Police Force, with custom-fitted protective vests –the remainder are in the process of being measured and produced.
###
PHOTO: U.S. Senator Charles E. Schumer and New York City Police Commissioner Raymond W. Kelly appear together in a news conference at One Police Plaza to appeal a DOJ decision denying the families of Auxiliary Police Officers Eugene Marshalik and Nicholas Pekearo a federal death benefit.