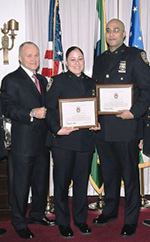 Police Commissioner Raymond W. Kelly today awarded Certificates of Recognition and "Commander's Days" to Police Officer Gustavo Medina and Police Officer Sasha Rodriguez with Certificates of Recognition for helping to apprehend a perpetrator who assaulted and robbed four elderly women in the South Bronx last month.
"Officers Medina and Rodriguez stopped a perpetrator who in fewer than two days terrorized four senior citizens in the midst of the holiday season," Commissioner Kelly said. "Their sharp attention to detail and concern for the community helped bring to justice an individual who ruthlessly victimized the elderly, and protected others from his increasingly vicious attacks."
Officers Medina and Rodriguez were on foot patrol when they noticed the suspect's backpack resembled one seen vaguely in images captured from security cameras. (/images/pr/pr_2008_003-a.jpg ) The perpetrator had targeted elderly women in the elevators and lobbies of residential buildings between Dec. 8 and 10, 2007, punching one in the face and kicking another in her stomach before fleeing with their money or handbags. On one occasion he threatened with a screw driver a 74-year-old woman who was on her way to deliver Eucharist to an ill neighbor.
Subsequent to the officers' quick work and questioning by the 42nd Precinct Detective Squad, the suspect was arrested Dec. 12 and later charged with multiple counts of robbery and assault.
The certificates presented to Officers Medina and Rodriguez recognize their professionalism, courage and action in the finest traditions of the New York City Police Department. The Commander's Day entitles each officer with an additional day off. Both officers were assigned to the 42nd Precinct upon their graduation from the Police Academy in December 2006.
Also in attendance were Chief of Department Joseph Esposito; Assistant Chief Thomas Purtell, Commanding Officer of Patrol Borough Bronx; and Deputy Inspector Timothy Bugge, Commanding Officer of the 42nd Precinct.
###
Photo: Police Commissioner Raymond W. Kelly presents Police Officer Sasha Rodriguez and Police Officer Gustavo Medina each with a certificate recognizing their role in apprehending a man who assaulted and robbed elderly women in the Bronx. NYPD Photo Unit.