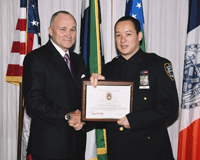 Police Commissioner Raymond W. Kelly today presented Police Officer Gregory Chin with a Certificate of Recognition for his bravery in an Oct. 6 knife attack in the 17th Precinct in Manhattan's Murray Hill. He was joined by Chief of Department Joseph Esposito; Assistant Chief James Hall, the commanding officer of the Transit Bureau; and Captain Thomas Connolly, commanding officer of Transit District 4, to which Officer Chin is assigned. Officer Chin's girlfriend, Violet Virina, also attended the ceremony.
"Officer Chin not only helped to save the lives of two defenseless people that Saturday morning – he prevented further violence from occurring, at great risk to his own life," Commissioner Kelly said. "He encountered a situation that New York City Police officers face far more frequently than the public knows, and his quick action represents the best of police service."
The certificate presented to Officer Chin reads:
"Certificate of Recognition Presented to Police Officer Gregory Chin who, on Saturday, October 6, 2007, without regard for his personal safety, confronted an armed assailant and ended a vicious attack on an innocent woman, saving her life. Officer Chin acted in the finest traditions of the New York City Police Department, and brought great credit upon himself, the NYPD and the City of New York."
At the time of the attacks, Officer Chin was off-duty on vacation and exiting a diner when he saw a bloody commotion in the vicinity of Second Avenue and 35th Street in Manhattan. Earlier that morning, an emotionally disturbed man had severely slashed the chef of an area restaurant and then stolen knives from the kitchen, which he used to stab an elderly woman on the street. When Officer Chin came upon the scene, he identified himself and ordered the man to drop his weapons. After the man refused and lunged at Officer Chin with the knives in hand, Officer Chin fired once, striking him and bringing the ordeal to a close. It was the first time he had fired his service weapon at a perpetrator. He is a six-and-a-half year veteran of the Department.
Photo: Police Commissioner Raymond W. Kelly presents Police Officer Gregory Chin with a certificate recognizing his bravery at One Police Plaza. NYPD Photo Unit.