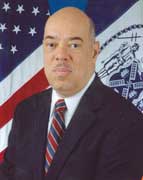 Police Commissioner Raymond W. Kelly today announced the appointment of Wilbur L. Chapman as Deputy Commissioner for Training of the New York City Police Department.

"Bill Chapman brings vast and varied experience to the all-important task of molding the future of the New York City Police Department," Commissioner Kelly said. "Having previously succeeded in recruiting the most diverse pool of candidates for the Police Department in its history until that time, he returns to make certain we deliver the best education and training available to new recruits, as well as to personnel already on the job, in a Department representative of the city it serves. The Department needs Bill Chapman's depth of experience and talent to tackle the enormous training needs of conventional crime-fighting, counter-terrorism, and community relations in the nation's largest police department."

Deputy Commissioner Chapman most recently served as Chief of Police in Bridgeport, Conn., and before that as the New York City Department of Transportation Commissioner, after three decades with the New York City Police Department, culminating with his service as Chief of Patrol.

Commissioner Chapman joined the New York City Police Department in 1969 and was assigned to patrol duties in Manhattan's 23rd Precinct. He served as a patrol supervisor in the same precinct, and after winning competitive appointments to Lieutenant and Captain, served in a variety of commands including Applicant Processing, Recruitment and Retention, and Applicant Investigations.

As Deputy Inspector, Commissioner Chapman was Commanding Officer of the 113th Precinct from December 1990 to May 1991. Upon his promotion to Inspector in May 1991, he was given command of the 12th Division, where he was responsible for the delivery of police services in the four Brooklyn precincts serving Crown Heights, Canarsie, Marine Park and East Flatbush.

The following year, as Commander of the Department's Recruitment Section and Applicant Processing Division, he was responsible for promulgating the most diverse list of qualified police applicants in the Department's history until that time.

Commissioner Chapman served as Executive Officer of Patrol Borough Queens from November 1993 to June 1994, and after that as Commanding Officer of Patrol Borough Manhattan North, from June 1994 to January 1995. He retired from the Police Department in June 1998, having served as Chief of Patrol since January of 1995.

Commissioner Chapman studied at the Pratt Institute School of Architecture from 1964 to 1968 and holds a Bachelor of Arts degree in Government from Manhattan College, and is a graduate of Columbia University's Police Management Institute.

Commissioner Chapman succeeds Charles D. De Rienzo, who retired.