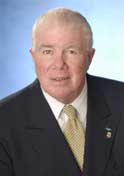 Police Commissioner Raymond W. Kelly today announced the appointment of Anthony J. Garvey as Executive Director of the New York City Police Pension Fund.

The fund, whose trustees include Mayor Michael Bloomberg, Comptroller William C. Thompson, Jr., and Police Commissioner Kelly, as well as leadership of the various police unions, oversees $21 billion in aggregated assets, supports 46,000 retired members of the service and assists active-duty members in their retirement planning. Its disability board also makes determinations on disability pensions stemming from line-of-duty injuries.

"It's crucial that the Executive Director has the integrity, experience and knowledge to occupy so important a post. Tony Garvey has all three, as a 34-year veteran of the NYPD and 16 years of experience as a trustee of the Fund," Commissioner Kelly said. "He is superbly qualified."

Lieutenant Garvey, whose appointment is effective September 8, is president of the Lieutenants Benevolent Association, a post he will vacate upon assuming his duties as Executive Director.

A decorated, disabled combat veteran of the Vietnam War, Lt. Garvey served with distinction in the United States Army's 9th Infantry Division. He began his career with the New York City Police Department in 1973, in the 32nd Precinct in Harlem, and after his promotion to Sergeant served the South Bronx in various Commands. Lt. Garvey also is the former Commanding Officer of a Neighborhood Stabilization Unit covering four Bronx precincts.

Lt. Garvey holds Masters degrees from both Bernard Baruch College of the City of New York and Cornell University, and successfully completed the rigorous certificate program from the Wharton School, at the University of Pennsylvania, in the Fundamentals of Money Management Program.

He and his wife Edith have two adult children and two grandsons.

Lt. Garvey succeeds Michael D. Welsome, who retired.