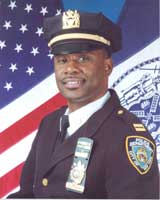 Deputy Inspector Luis A. Despaigne
Commanding Officer's Message
I would like to thank the many Council Members, Residents and NYCHA staff who made my transition as a new Commanding Officer a pleasant and smooth one. Our focus for the next few months will be continuing to combat violent crime, and educating residents concerning Domestic Violence issues and Identity Theft which is the fastest growing crime in America.

We will continue to implement plans to address and enhance the Quality of life conditions for the residents of PSA 6. I know our cooperative efforts will help us reach our goal of improving the way of life for our Residents.


Help us help you solve open cases by providing information that can assist in apprehending perpetrators. YOU DON'T HAVE TO REVEAL YOU IDENTITY TO SOLVE A VIOLENT CRIME call 1-800-577-TIPS if your information leads to an arrest and indictment you may receive a Reward of up to $2000.